The news...
The Single currency nose-dived from $1.2474 on 27th of March to a low of $1.2215 today, losing almost 260 pips over the last two weeks, on a combination of fears over a slowdown in Eurozone economic activity, concerns over Italian politics, wider yield spreads between Germany and U.S together with the unwinding of net long EUR positions ahead of today U.S. jobs data which is likely to gauge the strength of the U.S labour market and the U.S. economy.
Technical outlook
On the 30 mins chart, the decline on the EUR/USD, over the last two weeks, appears to be running out of steam and further weakness seems unlikely. We expect to see EUR/USD attempting to post a rebound in the near term.
Moreover, based on an Elliott wave perspective, an Ending Diagonal pattern seems likely unfolding in the late stage of a 5 wave decline on the EUR/USD's chart, suggesting a possible reversal ahead!
An Ending Diagonal is a special type of Elliott Wave pattern which usually indicate exhaustion of the larger movement on a currency pair. It usually takes the form of a falling wedge and is followed by a swift and sharp reversal.
On the 30 mins chart, the pair might still dip to 1.2160/1.2200 level before bouncing higher probably back to previous wave 4 of a lesser degree at $1.2350 followed by $1.2376 and $1.2420!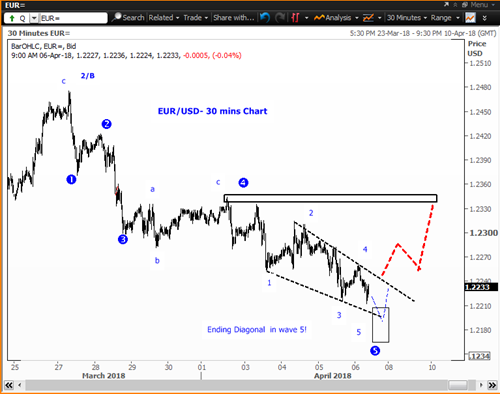 Disclaimer: This communication is provided for information and discussion purposes only. Unless otherwise indicated, it does not constitute an offer or recommendation to purchase or sell any financial instruments or other products. AfrAsia Bank does not guarantee or warrant the accuracy, reliability, completeness of the information in this publication.