Trading proverbs: "Human emotion is both the source of opportunity in trading and the greatest challenge. Master it and you will succeed."-Curtis Faith
The news…
The Single currency has been creeping higher over the last 3 weeks, gaining almost 3.9% against the U.S. dollar on the back of series of events making the market falling in love with the currency.
Besides, unexpectedly strong business confidence report in Germany, dovish U.S Federal Reserve Chairman Jerome Powell confirming a "slow and gradual" pace of rate hikes, and news of a possible trade deal between the U.S. and E.U in November have been the perfect ingredients for a Euro bull run.
Technical outlook: EUR/USD rocketed as expected, watch for a possible downturn!
Here is what we posted early on 20 August well before the news!
On an Elliott wave perspective, the EUR/USD may have ended wave A highlighted on 20-August at $1.1736 on Tuesday. The pair could possibly drop down in the coming weeks facing support at $1.1530 seconded by $1.1467 and finally $1.1350.
On the upside, a break above $1.1736 would target $1.1790 followed by $1.1853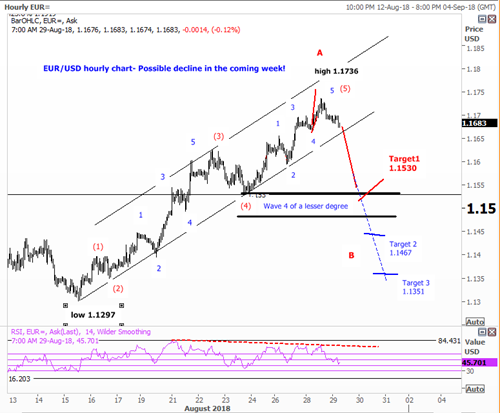 Disclaimer: This communication is provided for information and discussion purposes only. Unless otherwise indicated, it does not constitute an offer or recommendation to purchase or sell any financial instruments or other products. AfrAsia Bank does not guarantee or warrant the accuracy, reliability, completeness of the information in this publication.