04 Jun 2021
AfrAsia Foundation strengthens its commitment towards the community by donating above MUR 1.0 million to Mahebourg Espoir Education Center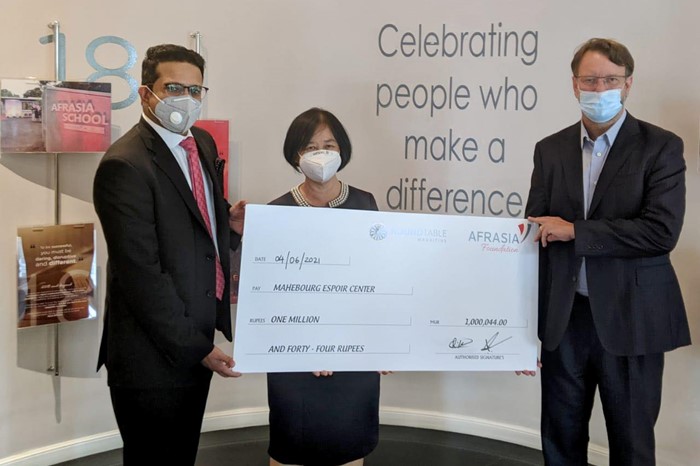 "No matter how big or small, every contribution counts for the progress of our society…", on these words, Thierry Vallet, Interim CEO of AfrAsia Bank handed over a cheque above MUR 1.0 million to the Mahebourg Espoir Education Center, during a special event held on Friday 04 June at AfrAsia Branch in Ebene, to mark the World Environment Day, which is celebrated on the 5th of June. The thematic focus of this world day is Ecosystem Restoration which focuses on the prevention and restoration of the degradation of ecosystems on all continents and in all oceans, representing a call to action for every country, business and individual. The donation is even more symbolic since this is aligned with the sustainable agenda of the Foundation.
This solidarity initiative came to fruition with the support of Round Table Mauritius and Club 41. The mission of this union is to supply the families of this community with basic food and household items. This monthly contribution which will be provided over a 12-month period will benefit to 29 families from Mahebourg Espoir Education Center, totalling 131 people, who were directly impacted by the MV Wakashio disaster.
This oil spill is one of the worst environmental disasters ever to hit our lagoons in July 2020. Besides severely damaging the marine ecosystem, it has devastated the livelihoods of fishermen, who were already struggling to keep up due to the coronavirus pandemic.
In response to this unprecedented crisis, the AfrAsia staff volunteered to manufacture boomers at Bagatelle and Mahebourg and the Foundation raised over MUR 2.0 million for the purchase of personal protective equipment for the volunteers and materials to make booms to contain the oil spill. Moreover, part of the remaining funds was allocated to the NGO Eco-sud to support its projects that help preserve the areas affected by the MV Wakashio oil spill.
"The support to Mahebourg Espoir Education Center reflects AfrAsia Foundation's engagement to the community and the ecosystem. Almost a year after this ecological disaster, which severely affected our marine eco-system, but which also affected many families, the need for help persists. We cannot be insensitive to the needs of these families. Our mission, on this World Environment Day, is to act respectfully towards our ecosystem and our fellow citizens. We are committed to the protection of our country's flora and fauna, and we want to encourage more Mauritians to adopt these values. Along with Round Table and Club 41, we have the opportunity to do more and make a difference...", asserts Thierry Vallet, Interim CEO of AfrAsia Bank.
In addition, more than MUR 400,000 were received by Round Table Mauritius and Club 41 coupled with the contribution of AfrAsia Foundation for the final amount exceeding MUR 1.0 million. These funds will enable the provision of vouchers for basic food and hygiene items to the parents/guardians of students from Mahebourg Espoir Education Center.
"Round Table has been present in Mauritius for over 55 years. It is an organisation of young like-minded individuals where friendship and philanthropy work hand in glove. When the country was confronted with an unprecedented ecological disaster last year following the MV Wakasio oil spill, Round Table Mauritius together with Club 41 Mauritius joined hands with the AfrAsia Foundation to assist those families whose livelihoods were directly affected. We have also extended support to wildlife missions tasked to protect and sustain the endemic flora and fauna from the severe effects of the oil spill. We at Round Table Mauritius earnestly believe in helping the underprivileged communities and have actively been assisting notable charities for a better Mauritius tomorrow", says Mithilesh Lallah, President of Round Table Mauritius.