06 Mar 2018
Business is embedded in society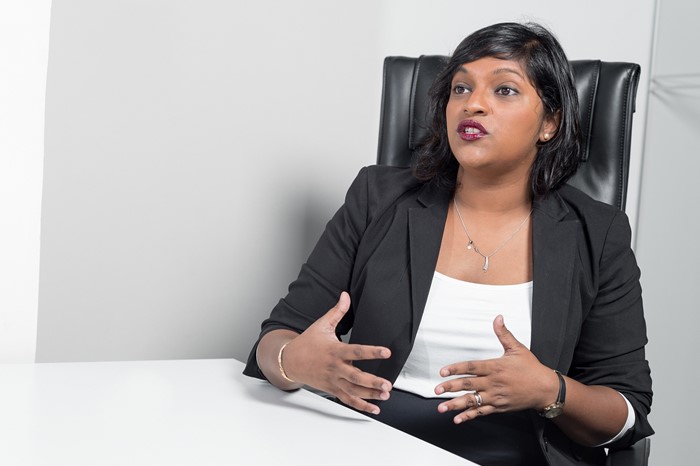 Interview of Luvna Arnassalon-Seerungen, Head of Corporate Sustainability & CSR with L'express
You recently attended the AFRICAN BUSINESS & SOCIAL RESPONSIBILITY FORUM 2018.  What were the focus and objectives of this conference in the face of a constantly evolving world?
Sustainability is first and foremost a call for collective awakening towards a common objective: protecting our planet. The challenge lies in enriching the debate on the subject by drawing ideas and exploring new avenues leading to inclusive and sustainable development. While the world's population continues to grow, the "Sustainability" theme is becoming an increasingly important discussion topic in many industries. The aim of this conference was to bring together professionals from various sectors and countries, including heads of government, industry experts and academics to describe several past, present and future sustainability projects and thus, strengthen the different players' commitment to their sustainability initiatives.  The objective was to address the pressing ecological, social and economic challenges that our world is facing.
Is our national strategy on sustainable development on track?
Since the adoption of the Millennium Development Goals (MDGs) in 2000, Mauritius has been faced with some significant challenges such as the widening of the gap between incomes of social groups, unemployment, health care, population ageing, drug proliferation to name but a few.  The creation of the United Nations' Sustainable Development Goals (SDGs) in 2016 provided signatories with an established framework for the implementation of sustainable development initiatives.  SDG guidelines set out the fundamental requirements in terms of environmental sustainability, social inclusion and economic development.
Two years after the adoption of these principles, we are still plagued with lack of understanding and especially of collaboration with respect to the 2030 agenda adopted by Mauritius.  Cooperation between the private and public sectors could stand to be improved, namely on climate change issues which confront the world.  If we want to meet our objectives, everyone has a role to play: governments, the private sector and the civil society. That is, all of us.
What is corporate sustainability? How do sustainable development goals fit into local companies' strategy?
The inclusion of social and environmental responsibility in business is not a new phenomenon. Businesses are embedded in society and must therefore exercise greater responsibility. There object is not only to generate revenue for shareholders but also to assume social responsibility in the production and redistribution of created wealth amongst the various stakeholders.
Some big companies have decided to create a sustainable development division. However, the concept must be further integrated into the very way companies operate. Companies' social responsibility should not be limited to a series of random subsidies. It is key tool that should impact companies' business philosophy and strategy.  What is needed here is sharing of expertise, adoption of sustainable codes of conduct and support for the most vulnerable sections of the population with high quality products and services.
Your company's latest annual report shows a strong corporate focus on sustainable measures.  What are the driving forces behind this mobilization around the concept?
Committed to being a "responsible bank", we have indeed reviewed all our strategies and structures in order to move towards a triple bottom line that goes well beyond profits and financial returns. Traditional financial reports alone cannot explain how organisations react to evolving external elements and create value for their stakeholders.
AfrAsia Bank integrated sustainable development into its corporate strategy back in 2016, starting with the drawing up of a sustainable development strategy to progress towards a sustainable corporate strategy. Through our annual report, we tried to show, for example, how the bank creates value for its customers by providing financial solutions that meet their needs or by seeking to innovate to counter some global problems associated with the overexploitation of our natural resources.
Which main challenges and opportunities did the implementation of this strategy give rise to? Has any observable business value been derived from your sustainable development efforts?
The main challenge remains the methodological change and the adoption of an integrated system for all the activities of the company and its subsidiaries.  The establishment of a "Sustainability" division was vital for the implementation of cohesive sustainability strategies and the achievement of the Group's objectives.  Without the continued support and the strong involvement of our Chief Executive Officer, our sustainable development initiatives would not be as well integrated as they are. 
We also realised that synergy between departments was facilitated by the interdependence of projects associated with sustainable development, and cannot neglect to mention the positive impact on the brand's reputation and equity.
Due to the difficulty of measuring returns on sustainable investments, the definitive impact of our initiatives will not be known for some time yet.   We have however gathered some promising figures concerning reduced operating costs resulting from these types of initiatives.  As indicated in our last UN Global Compact report and the bank's annual report, these figures relate to our various stakeholders.  The report on our 2020 strategy will help us, in two years, assess and improve our involvement.