"If you are not successful, that means you're not making enough mistakes."- Robert Kiyosaki
The news..
The Pound surged to as high as $1.3445 on Monday after Britain and the European Union agreed on Sunday to go the extra mile to try to break deadlocks on access to U.K. fishing waters for E.U. trawlers and corporate fair play rules.
European Union Brexit negotiator Michel Barnier said on Monday that sealing a trade pact with Britain was still possible before the country's final break with the 27-nation bloc on Dec.31.Still, the next few days of negotiations would be critical.
However, the Pound backed off early on Tuesday to $1.3341 amid a new variant of Covid-19 is spreading in London and the city was confirmed to be going back into Tier 3 lockdown as a result.
Although Brexit and coronavirus are likely to keep the driver's seat, the recent doubts over whether the Bank of England (BOE) is geared towards the negative rates or not highlight the importance of Thursday's BOE interest rate decision.

Technical outlook- The waves suggest for a temporary downturn to $1.2730.
GBP/USD rallied by over 750 pips since the beginning of September, despite the resurgence of coronavirus in the U.K., the dovish BOE and the tug-of-war around Brexit.
In an Elliott wave perspective, the GBP/USD might be in an early stage of a long term bullish rally in 2021. However, the overlapping upward price structure to $1.3445 over the last few months suggests a corrective flat pattern(the same structure as seen in Mar-Jul 20) which could potentially drive the pair temporarily lower to $1.2730 in the coming weeks.
Alternatively, should the trend remain positive past - $1.3445 on the Pound, odds of a fresh monthly high above $1.3592 can't be ruled out.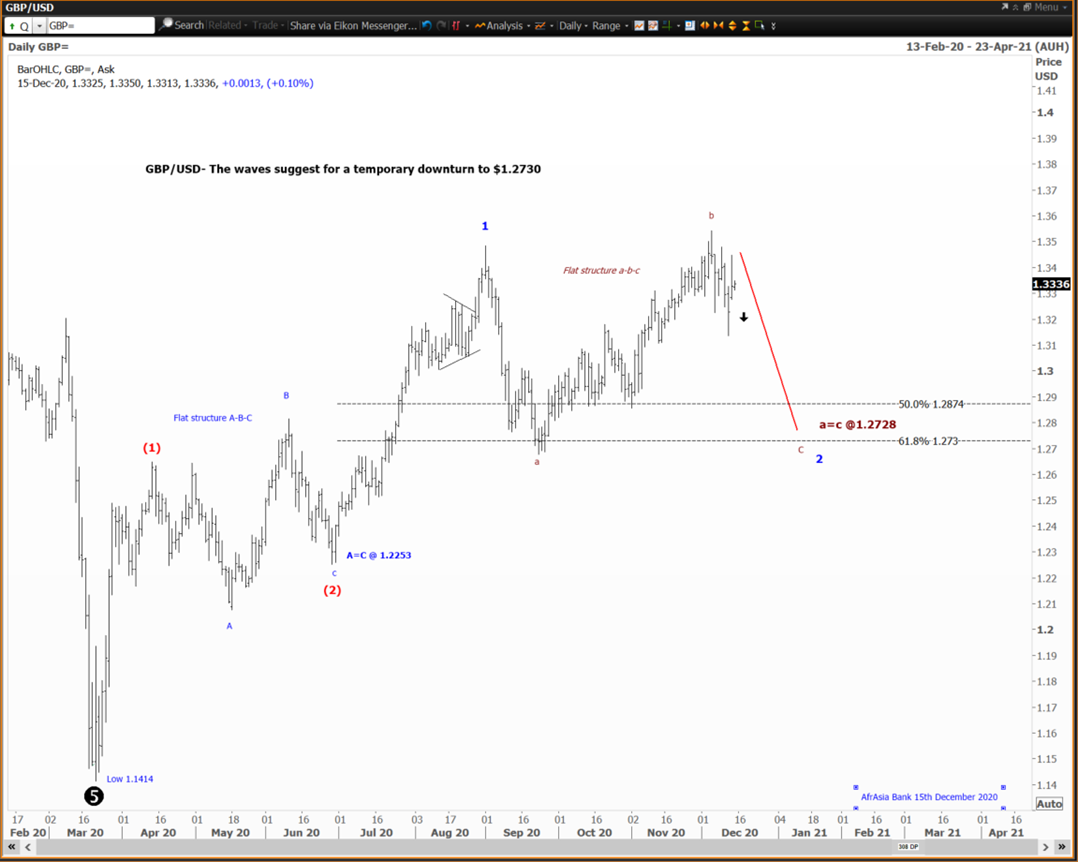 Disclaimer: This communication is provided for information and discussion purposes only. Unless otherwise indicated, it does not constitute an offer or recommendation to purchase or sell any financial instruments or other products. AfrAsia Bank does not guarantee or warrant the accuracy, reliability, completeness of the information in this publication.