EURO NEWS
The last two weeks have been tough for the Single currency, as the Eurozone's economic engines suffered a batch of sluggish growth which sent the EUR/USD on a roller-coaster ride from $1.1515 on 31st Jan 2019 to as low as $1.1313, its steepest drop in four months.
Starting with Germany, the bloc's largest economy, where growth fell to 1.5 % in 2018 from 2.2% in the previous year. In France, the Eurozone's second largest economy, growth also weakened as the country has been hit hard by the ongoing "yellow vest" protest, while the third largest economy, Italy, has officially entered into recession after GDP contracted for the second straight quarter at the end of 2018.
Confidence in the Eurozone was further dampened last week after the European Commission slashed its annual growth and inflation forecast, stoking concerns that a global slowdown is spreading to Europe, complicating the European Central Bank's plans for an interest rate hike later this year.
EUR/USD
Technical outlook:
The EUR/USD may have sent bearish signal early this year after it failed to keep the upward momentum above $1.1570 high on 10th Jan 2019.  Indeed, the pair extended decline to as low as $1.1313, losing over 200 pips all the way down.
On the Daily Chart, the current pattern on the EUR/USD suggests further downside in play over the coming weeks/month. A break of previous low of $1.1289 could possibly lead to a deep dive near 1.1050 level.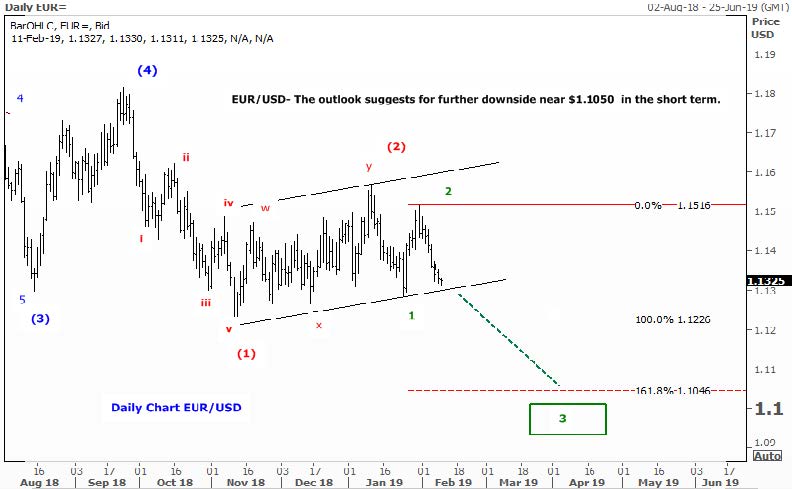 Disclaimer: This communication is provided for information and discussion purposes only. Unless otherwise indicated, it does not constitute an offer or recommendation to purchase or sell any financial instruments or other products. AfrAsia Bank does not guarantee or warrant the accuracy, reliability, completeness of the information in this publication.