The news..
The USD/CAD stumbled down  from $1.2818  to as low as $1.2670 in Asia this morning  after the release of an unexpectedly upbeat  Bank of Canada Business outlook  survey yesterday which showed business sentiment remaining solid in early 2018  despite concerns about the North American Free Trade Agreement( NAFTA) renegotiations and rising U.S. protectionism.
Besides, the upbeat report has buttressed  expectations of further interest rate hikes  by the BOC down the line. The central bank has raised rates three time since July 2017, and market see a nearly 80 percent likelihood it will hike again this July.
Other factors  supporting the recent rally of the  Canadian dollar were  a stronger-than-expected increase in domestic jobs on Friday coupled with gains in crude oil prices  as  concerns of trade war between the United States and China eased on Monday.
Technical outlook
As highlighted on Wednesday 4th of April, on the 30 mins USD/CAD chart,  both the Elliott wave and Head & Shoulders patterns were calling for a near term rally on the Loonie against the U.S counterparty.
Indeed, after a brief spike to $1.2818 on Monday morning back to the Head & Shoulders neckline, the USD/CAD fell sharply to as low as 1.2670  before recovering to 1.2700 level in Asian session this morning.
Looking ahead, as highlighted last week,  the USD/CAD could see further weakness to our 1 target level @1.2643( Wave A= Wave C) before pointing south again to the estimated price target based on the Head & Shoulders pattern at 1.2512.
On the upside, resistance could be seen at 1.2780 followed by 1.2815!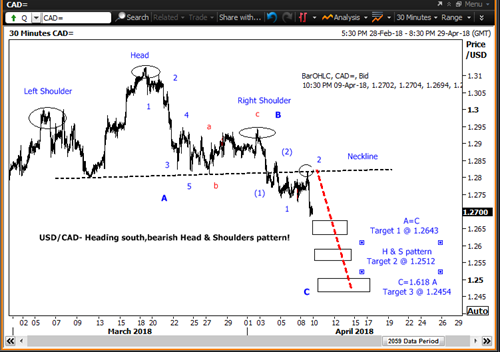 Disclaimer: This communication is provided for information and discussion purposes only. Unless otherwise indicated, it does not constitute an offer or recommendation to purchase or sell any financial instruments or other products. AfrAsia Bank does not guarantee or warrant the accuracy, reliability, completeness of the information in this publication.