Trading proverbs: "A trader should have no opinion. The stronger your opinion, the harder it is to get out of a losing position."-Paul Rotter
The news...
The Loonie surged to 1.2522 against the U.S dollar last night, its highest level since Feb.19, after Canadian Manufacturing shipments in February climbed to 1.9% against the 1.1% expected. However, it swiftly pared most of its gains to trade back to $1.2570 level as markets seem to remain on the sidelines ahead of Bank of Canada(BOC) interest rate decision due today.
No change in interest rates is expected from the BOC, but analysts are starting to consider a potential hike later this year on better economic outlook for the Canadian's economy. Furthermore, rising oil prices, stronger labour market and fading NAFTA uncertainty are sufficient reasons for the BOC to remain hawkish.
Technical outlook
The USD/CAD shot down to an 8-week lows at $1.2522 yesterday, close to our estimated Head & Shoulders price target @1.2512 highlighted early on 4th April!
In an Elliott Wave perspective, the  422 pips drop from $1.2944  on 2nd of April to $1.2522 low yesterday  appears like a 5 waves decline, suggesting that  further sell-off on the USD/CAD may be limited, and calling for at least  a  possible 3 waves pullback!
Watch out for BOC rate decision due at 1400 GMT today for confirmation on the near-term direction on the USD/CAD.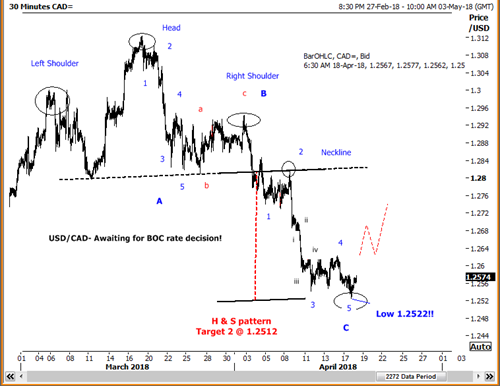 Disclaimer: This communication is provided for information and discussion purposes only. Unless otherwise indicated, it does not constitute an offer or recommendation to purchase or sell any financial instruments or other products. AfrAsia Bank does not guarantee or warrant the accuracy, reliability, completeness of the information in this publication.