Trading proverbs: Simplicity means the achievement of maximum effect with minimum means." - Koichi Kawana
The News...
The Single currency tiptoed to a low of $1.1980 yesterday despite thin trading activities out of Europe, though continued disappointing inflation data among EU members, the latest being German's slowdown in  core inflation data on Monday, are hardly helping the Euro.
It was meant to be a quiet day in the FX markets yesterday as most of the world was on holidays, celebrating the Labour Day, with the exception of the U.K. & U.S.A with both markets opened.  However, market players decided to drive the U.S dollar higher amid key events out of the United States are looming this week.
Starting from Wednesday, the U.S. Federal Reserve will be announcing key interest rate at its Federal Open Market Committee (FOMC) meeting at 1800 GMT followed by U.S nonfarm payrolls report on Friday.
The Market is not expecting the Federal Reserve to raise interest rates tonight after its latest rate hike in March which now stands at a target range of 1.50-1.75%. Expectations, however, have been rising that the Fed may likely be on track to deliver four rate hikes this year. A more hawkish-than-anticipated statement could drive the US dollar to break significantly higher across the board. Conversely, if the Fed disappoints by not making any alteration to its wording, the greenback's rally could start to lose some steam in the near term.
 Another bigger test for the U.S. dollar against its counterparts will probably be Friday's nonfarm payrolls report, and in particular, the wage growth figures. The Fed would be pleased to see a pick-up in earnings in order to be convinced that inflation is on a continuous path upwards. If such a likelihood is indicated on Friday, the US dollar would be poised to remain in the driving seat against the majors.
EUR/USD Technical outlook:
Ka-Ching! - Our 1st target met at $1.1984!
Early last week, on the EUR/USD, we were looking for that sell-off to $1.1984 in an intermediate wave 3 of an Elliott wave impulsive decline, and we got served!
On the Hourly Chart, we suspect that the rally in intermediate wave 3 is nearing completion, while a new low near 1.1923/50 could still be on track, before the pair consolidates higher in wave 4 in the range of $1.2100/1.2137 from where the pair might resume the downtrend again!
Posted on 27.04.18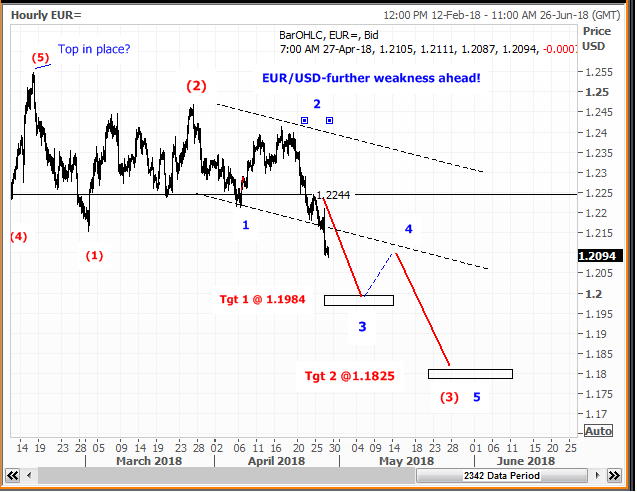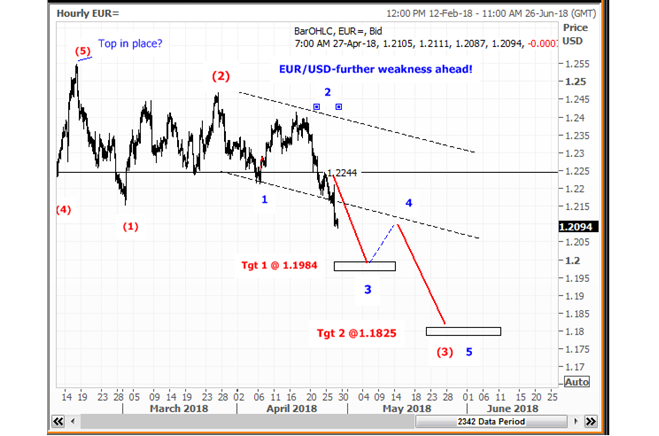 Tuesday 1st May 2018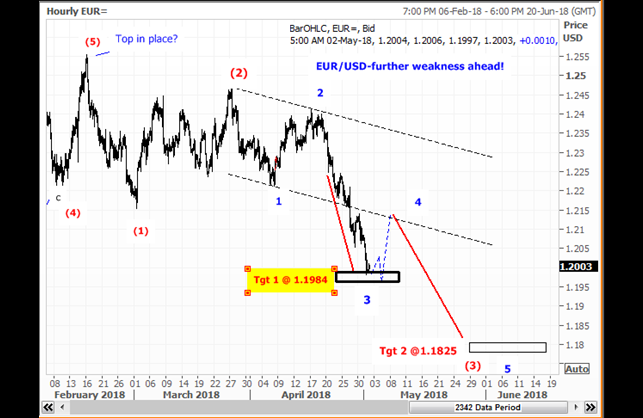 Our long shot target still remain for further downside near $1.1825 in the near term.            
Disclaimer: This communication is provided for information and discussion purposes only. Unless otherwise indicated, it does not constitute an offer or recommendation to purchase or sell any financial instruments or other products. AfrAsia Bank does not guarantee or warrant the accuracy, reliability, completeness of the information in this publication.