"Luck is what happens when preparation meets opportunity". - Lucius Annaeus Seneca
After a week of losses from $1.2554 to $1.2257, the euro regained some tractions above $1.2300 on Thursday evening, though no obvious catalyst was behind that move.
Earlier, The ECB released the Accounts of its latest monetary policy meeting on Thursday, maintaining the same cautious tone on their policy guidance last month. 
Technical outlook- Triangle pattern in view!
The sharp decline on the single currency to $1.2257 yesterday still appears to be a 3 waves structure, suggesting a continuation of the sideways price action unfolding for a while now.
In Elliott wave perspective, the sideways price action can be viewed as a triangle formation which consist of 5 zig-zags in waves A-B-C-D-E.
On the 30 mins chart, the  possible upside move in  wave D of a Triangle pattern  could find resistance in the range 1.2440/1.2520, while a break below $1.2204 would invalidate the Triangle count and  could even send the pair to $1.2150!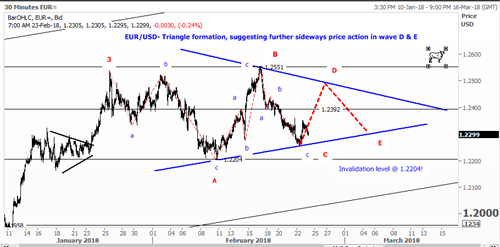 Disclaimer: This communication is provided for information and discussion purposes only. Unless otherwise indicated, it does not constitute an offer or recommendation to purchase or sell any financial instruments or other products. AfrAsia Bank does not guarantee or warrant the accuracy, reliability, completeness of the information in this publication.