After a 2- weeks decline to as lows as $1.2215 on last Friday, the Single currency rebounded strongly on Monday amid risk appetite after signs that President Trump may have softened his approach in a trade spat with China when he tweeted:
"President Xi and I will always be friends, no matter what happens with our dispute on trade. China will take down its Trade Barriers because it is the right thing to do. Taxes will become Reciprocal & a deal will be made on Intellectual Property. Great future for both countries!"
Meanwhile, in the Eurozone, a number of upbeat messages from various ECB officials on Monday, including ECB's President Mario Draghi  showing confidence on inflation moving higher and the economic growth in the euro area to remain strong, together with weekend reports that an Italian government may be formed in the next week were deemed supportive for the common currency .  
Technical outlook:
Two corrective setback scenarios pointing for near term gains on the EUR/USD
Scenario 1:  Near term corrective mover higher before resuming of the downtrend!
On the 30 minutes chart, the EUR/USD rose sharply from $1.2215 on last Friday to as high as $1.2330 on Tuesday after breaking out from a "bullish falling wedge pattern"( Elliott wave Ending Diagonal pattern mentioned last week).
In the near term on the EUR/USD, We expect $1.2345 to hold (prior wave 4 of an impulse Elliott Wave decline). A break above that level could lead toward $1.2378/1.2420 before the pair finds strong resistance at $1.2475.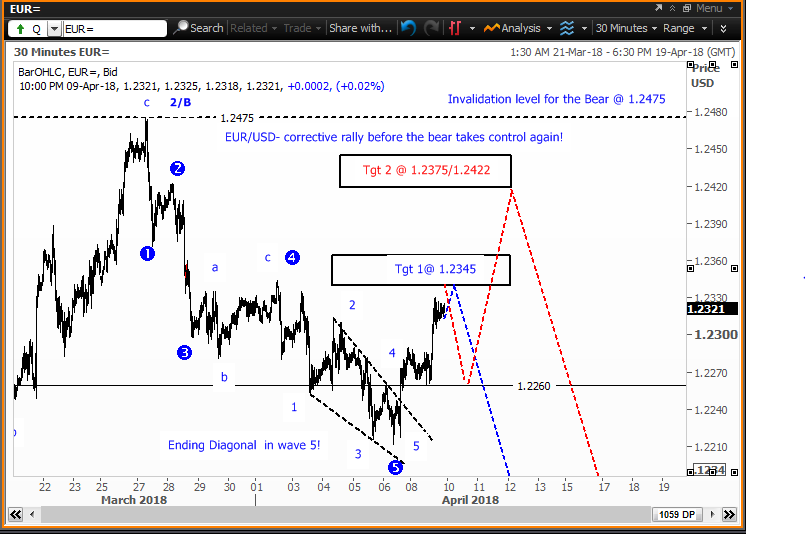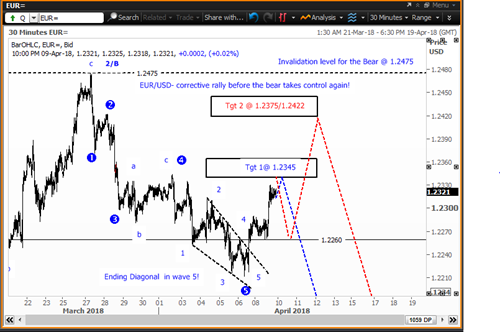 Scenario 2: Continued sideways consolidation in an Elliott wave bullish triangle pattern!
In an Elliott wave perspective, on the 30 mins chart, the EUR/USD  could move higher in wave D  near $1.2378/ 1.2420  before pulling back once more in the range of $1.2220/1.2300 to complete wave E of a bullish triangle pattern before the pair break higher above $1.2475 followed by $1.2550!
On the downside, a failure to hold above $1.2260 could yield a deeper correction to $1.2215 and if cleared, the bears will likely attack 1.2150/75 level!
Disclaimer: This communication is provided for information and discussion purposes only. Unless otherwise indicated, it does not constitute an offer or recommendation to purchase or sell any financial instruments or other products. AfrAsia Bank does not guarantee or warrant the accuracy, reliability, completeness of the information in this publication.