Trading proverbs: "I've found that the big money was never made in the buying or the selling, but was made in the waiting." – Jesse Livermore."
NEWS

The U.S dollar surged to a six-week high against a basket of currencies on Thursday as recent stunningly strong U.S. Economic data supported the view that the U.S economy is growing faster than expected. Besides, the groundswell of U.S. economic optimism has lifted expectations for another rate hike by the Federal Reserve in December coupled with an oddly hawkish Fed chairman Jerome Powell on Wednesday who is warning of even further, faster rate hike in the future. 
EUR/USD

In Europe, the Single currency was severely battered and pushed to a six-week low of $1.1464 yesterday, losing almost 400 pips all along the impulsive decline, as markets have been unnerved by the recent uncertainty surrounding Italy's budget deficit (the Italian government having flouted pressure from Brussel and its euro zone partners to water down its budget plans to 2% of GDP), while weak EU economic data also dragged down the currency.

Technical outlook:
EUR/USD weighed down by Italian saga, but further weakness could be limited!
After a laborious rally to as high as $1.1816 on 24th September, the EUR/USD faded that move and turned south into an impulsive decline to a six-week low of $1.1464 this morning.
On the hourly, based on an Elliott wave perspective, the whole picture over the last two months adheres more to a "corrective expanded flat pattern" in wave B. An expanded flat pattern is a simple three waves correction that subdivides into wave (a) (three waves), wave (b) (three waves, and wave (c) (five waves).
Ideally we would love to see a break of the dotted downward trend line near $1.1515 followed by a move above previous wave iv at $1.1596 to confirm that the decline in wave B on the EUR/USD is over and setting the stage for a higher euro possibly to $1.1900/ 1.21 level in wave C.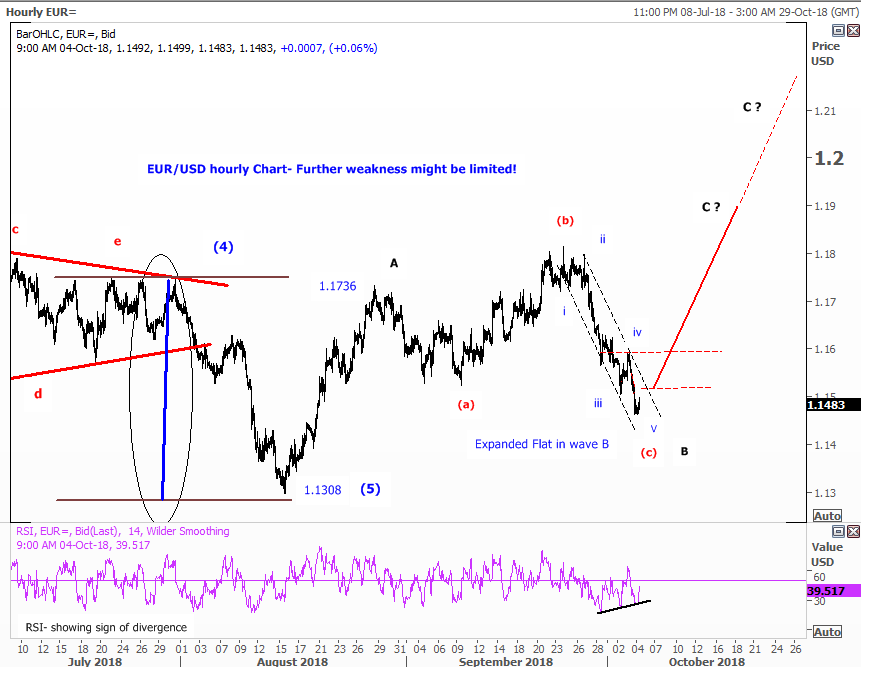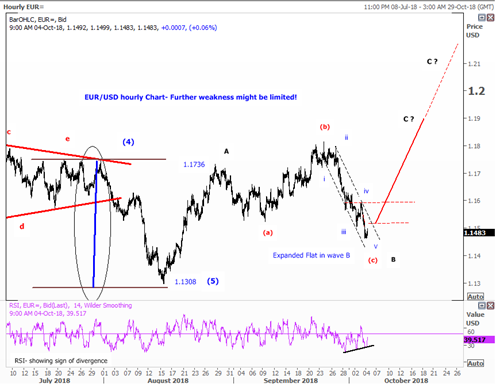 Read how we anticipated the moves on the EUR/USD: down, up and down over the last two months!!
Disclaimer: This communication is provided for information and discussion purposes only. Unless otherwise indicated, it does not constitute an offer or recommendation to purchase or sell any financial instruments or other products. AfrAsia Bank does not guarantee or warrant the accuracy, reliability, completeness of the information in this publication.