Trading proverbs: "Winning isn't everything, but wanting to win is." – Vince Lombardi
The News…
The U.S dollar soared on Friday against its main competitors after a solid U.S jobs report which showed 201,000 jobs were added in August, while the big surprise was the 2.9% y/y jump in wages, the highest since June 2009.
The continued high pace of the U.S. employment growth  coupled with the acceleration of wage growth this month have bolstered market expectations for further tightening of the monetary policy by  the Federal Reserve this year.
Besides, according to CME's Fed Watch tool, the markets are 99% convinced that the Fed will hike rates again in September, and 75% probability of another increase in December.
Meanwhile, the greenback has also derived some support across the board after President Donald Trump has expressed readiness on Friday to levy tariffs on virtually all Chinese imports into the U.S.
This week the European Central Bank holds its meeting on Thursday. However, the ECB is not expected to hike the deposit rate until mid-2019 and would probably keep the QE programme unadjusted until end-2018.
Technical outlook: EUR/USD eased from high post upbeat U.S job data, but too early to call for a downtrend reversal!!
The Single currency initially dipped to a low of $1.1527 this morning in the wake of upbeat U.S job data on last Friday, but the pair recovered strongly to $1.1580 in the European session.
On an Elliott wave perspective, the EUR/USD has still ground to unfold into a "Flat structure pattern" which could possibly send the pair higher to revisit $1.1660/1.1720 levels in the coming days.
However, the bigger picture suggests for further weakness ahead with possible target lower to $1.1467 followed by 1.1350.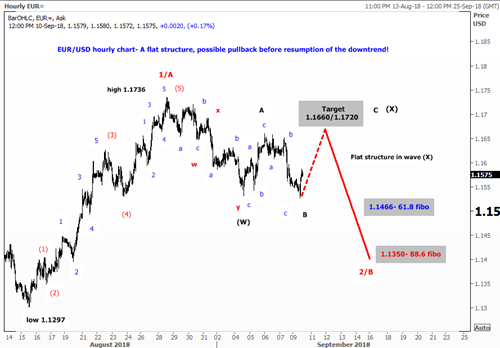 Read how we anticipated the moves on the EUR/USD: down, up and down over the last two months!!
Disclaimer: This communication is provided for information and discussion purposes only. Unless otherwise indicated, it does not constitute an offer or recommendation to purchase or sell any financial instruments or other products. AfrAsia Bank does not guarantee or warrant the accuracy, reliability, completeness of the information in this publication.