The News...
The Single Currency edged lower from $1.2395 to  $1.2356 this morning undermined by  the Fed minutes last night which carried a hawkish tinge for an early U.S interest rate hike. Market is now awaiting for the tone of the European Central Bank minutes, due today at 15:30(local time) for further direction on the pair.
Technical outlook:
As highlighted early on Tuesday, we were looking for a short term rally on the euro before a possible resumption of the downward trend. Based on current Elliott wave pattern, the bounce from $1.2215 last week is still looking corrective. The EURO might push for one more leg higher near $1.2415/20 before a possible turn lower.
However a break above $1.2475 will be favourable for the bulls for a run back to $1.2555(previous high on 16 Feb. 18)
Updated Scenario 1 posted on Tuesday. - Near term corrective mover higher before resuming of the downtrend!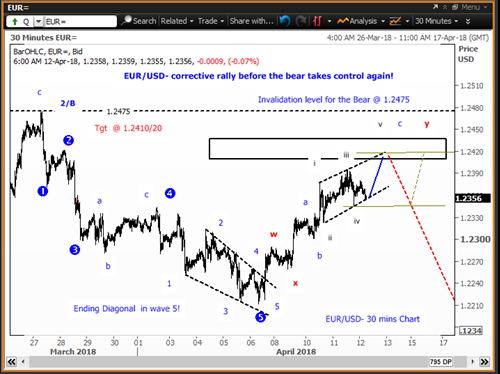 Scenario 2: Unchanged! - Continued sideways consolidation in an Elliott wave bullish triangle pattern!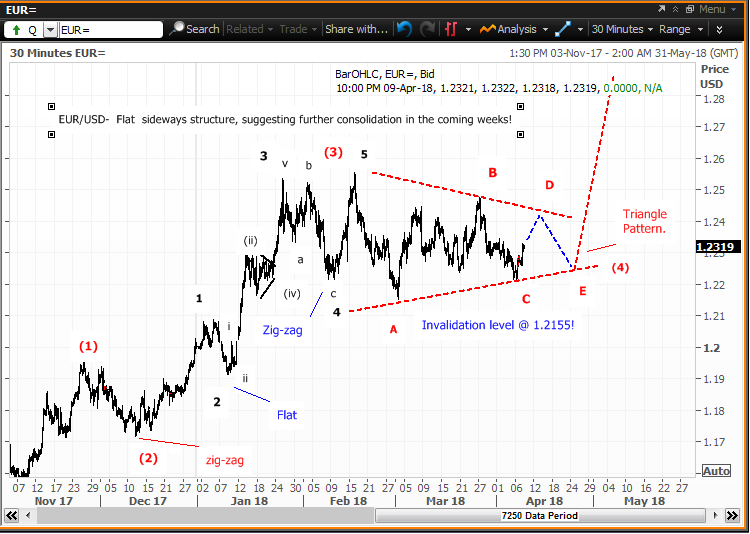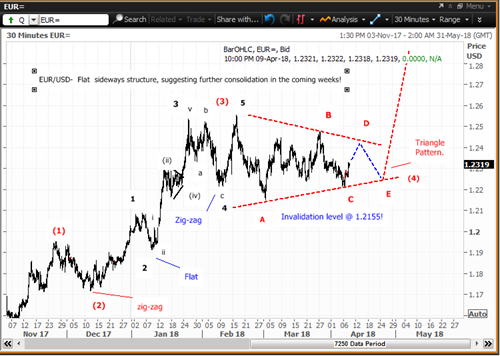 Disclaimer: This communication is provided for information and discussion purposes only. Unless otherwise indicated, it does not constitute an offer or recommendation to purchase or sell any financial instruments or other products. AfrAsia Bank does not guarantee or warrant the accuracy, reliability, completeness of the information in this publication.