Trading Proverbs: "If you are given a choice between money and sex appeal, take the money. As you get older, the money will become your sex appeal".- K. Hepburn
The news...
The Single currency slumped to a new low of $1.1763 on Wednesday before recovering quickly above $1.1800 this morning. The currency's theatrical run down  was attributed to Italy's heightened political uncertainty as It has been reported that the anti-establishment Five Star Movement and the anti-immigration League are discussing to seek  a debt relief of EUR 250 billion from the ECB, putting fuel over Italy's creditworthiness.
However, a report from Corriere della Sera, an Italian daily newspaper,  cited that the request for the debt write-off has been dropped by the European Central Bank.
Technical outlook- EUR/USD faded the drop to a new low as expected, Wave C of a corrective setback could be in play!
The EUR/USD made a comeback to $1.1818 after dumping into a fresh yearly low of $1.1763 yesterday.
In an Elliott wave perspective, wave B of a corrective flat structure highlighted a few days ago may have found its footing yesterday. In the near term, the pair could possibly move higher in wave C  of a corrective setback to $1.2050/1.2120.
On the downside, a break below $1.1760 will open the door for further weakness near $1.1710.
Now, let's see if price action will adhere to the corrective Flat structure posted on 15.05.18
Posted 2 days ago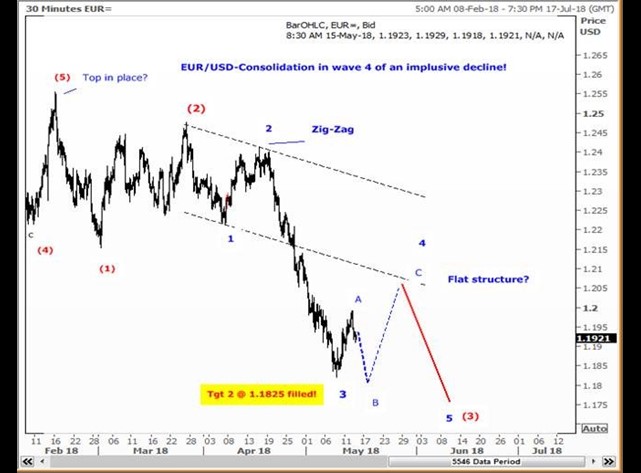 updated 17.05.18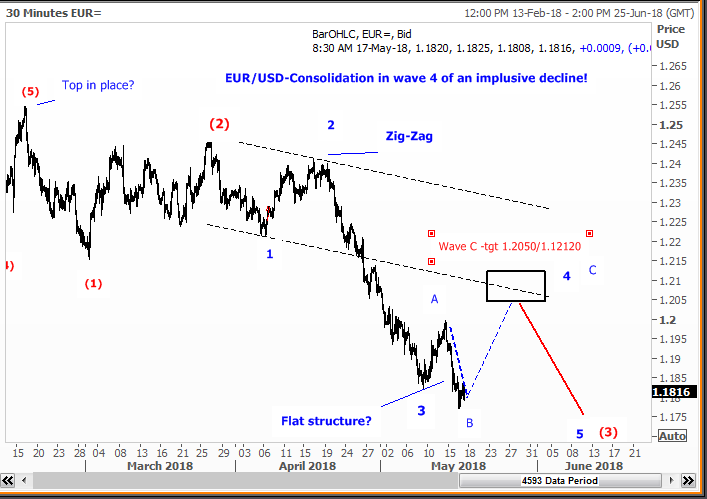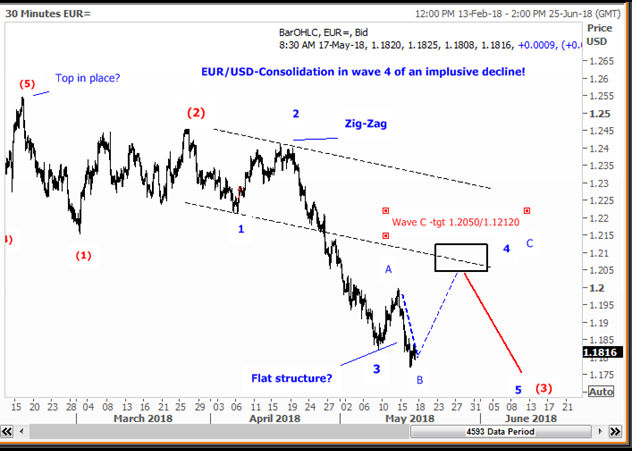 Disclaimer: This communication is provided for information and discussion purposes only. Unless otherwise indicated, it does not constitute an offer or recommendation to purchase or sell any financial instruments or other products. AfrAsia Bank does not guarantee or warrant the accuracy, reliability, completeness of the information in this publication.