Trading Proverbs- "In all things success depends on previous preparation, and without such previous preparation there is sure to be failure" – Confucius
The U.S dollar fell across the board last week after US President Trump tweeted his displeasures over the USD strength and rising US interest rates. He also accused China, the European Union and other countries of manipulating their currencies and interest rates lower to undermine US competitiveness.
Furthermore, with respect to the U.S-China trade dispute, President Trump on Friday stated that he is ready to impose tariffs on all $505 billion worth of Chinese goods imported to the US.
The Markets now fear the Sino-US trade war could turn out into a full-blown currency war.
Technical outlook-EUR/USD at the crossroads of a strong breakout, $1.1790 key level!!!
The Single currency rebounded from 20-day lows at $1.1573 last week to $1.1750 on Monday after the dovish comments from the US President on the greenback.
On the hourly chart, the EUR/USD has offered a sideways price action over the last two months ,meandering  in the range of $1.1505 and $1.1850,  with both the" Bulls & Bears" unable to make a decisive outbreak. 
The unfolding price action on the EUR/USD is giving way for two possible scenarios;
Scenario 1-A Bearish Triangle pattern as long as $1.1792 holds!!!
Target 1.1250/1.1300
In Elliott wave perspective, the sideways price action can be viewed as a "Triangle formation" which consist of 5 zig-zags in waves A-B-C-D-E, suggesting that sharp turn lower could be the next possible outcome in the coming weeks!!
On the hourly chart, the price pattern may be currently in wave E, where the pair could find resistance in the range of $1.1750/70 before resuming the downtrend below previous low of $1.1573 and possibly to $1.1250/1.1300 level.
However a sustain break above $1.1792 would invalidate the bearish count on the EUR/USD and put in play the second scenario!!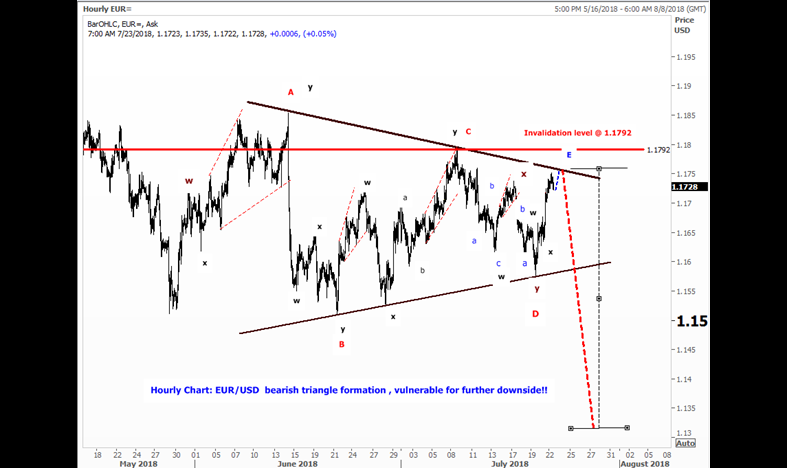 Scenario 2-Flat structure in wave 4 -Continuation of Corrective rally to the upside!  
Target 1.1880-1.1994
Early in June on the EUR/USD, we highlighted the possibility of a "flat corrective structure in wave 4" of an Elliott wave pattern in our Daily market Patrol.
Yet, we feel that only a break of $1.1790 might put the structure again in play and propel the pair to $1.1880 followed by $1.1994.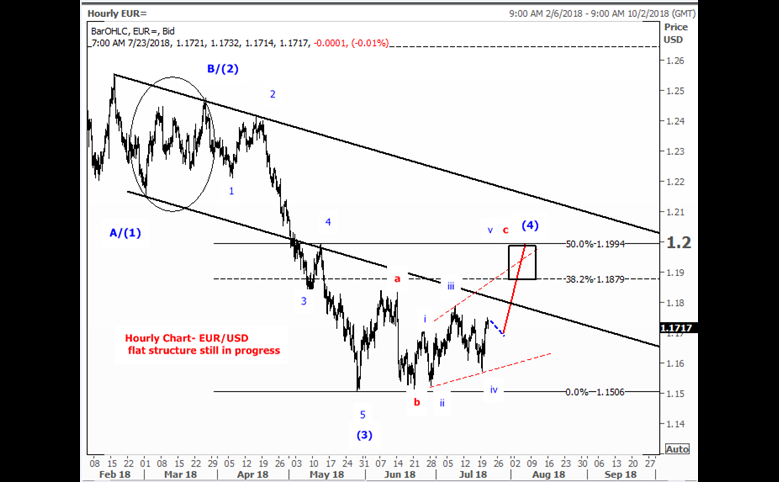 Disclaimer: This communication is provided for information and discussion purposes only. Unless otherwise indicated, it does not constitute an offer or recommendation to purchase or sell any financial instruments or other products. AfrAsia Bank does not guarantee or warrant the accuracy, reliability, completeness of the information in this publication.