Trading Proverbs: "I can accept failure, everyone fails at something. But I can't accept not trying." - Michael Jordan
The news...
As widely expected, the European Central Bank left its benchmark rate on hold yesterday and made no announcements regarding the end of the quantitative easing program.
The Single currency was initially bid, but subsequently lost its footing after ECB President Mario Draghi was neither hawkish nor dovish in his statement which failed to toss a lifebuoy for the euro. The pair sank to a one month low at $1.2091 this morning after ECB has been perceived to be playing safe after a disappointing turn out in the economy in Q1. Crunch time for the ECB now looks to be June or July instead.
Technical outlook: EUR/USD a falling knife after ECB cautious tone!
As highlighted early this week, the euro was calling for a deeper drop in the near term and the decisive break below $1.2150 yesterday has invalidated many bullish counts amongst traders, but instead confirmed the initial count for a strong move to the downside.
On an Elliott wave perspective, the EUR/USD might be currently travelling in an intermediate wave 3 of an impulsive decline that started early on 16th of Feb. 18. In the coming sessions/days, we are looking for a  possible strong sell-off to $1.1984, while the medium term looks even bleak for a potential move to $ 1.1825. On the flipside, the pair might face resistance at $1.2210 followed by 1.2260.
Posted on 24.04.18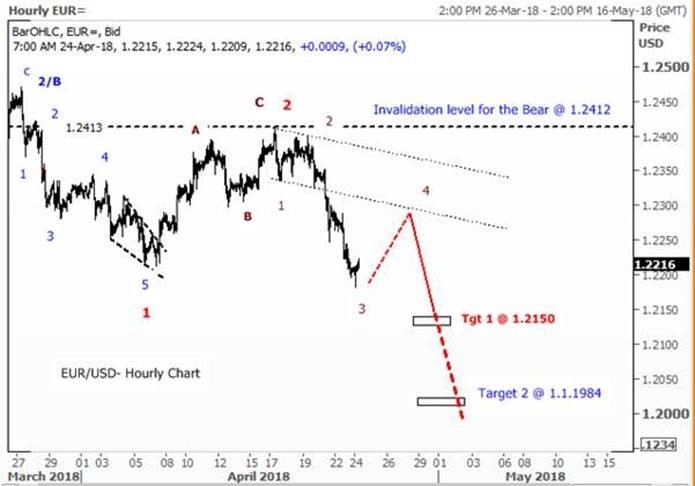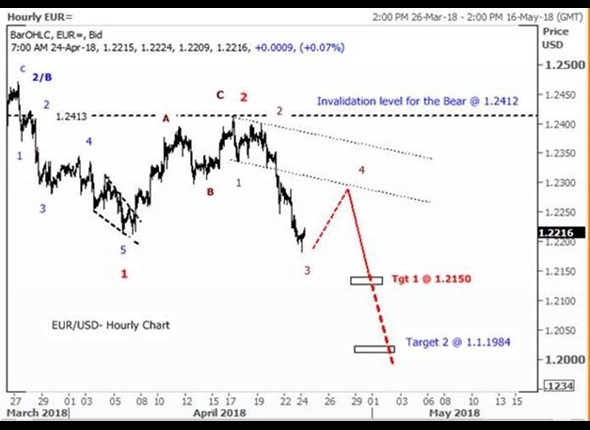 4 days later…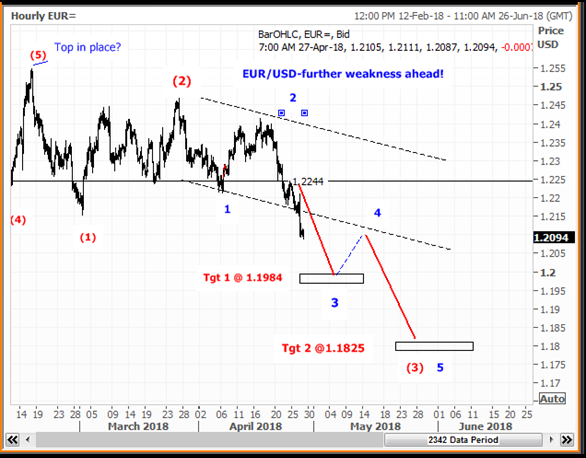 Disclaimer: This communication is provided for information and discussion purposes only. Unless otherwise indicated, it does not constitute an offer or recommendation to purchase or sell any financial instruments or other products. AfrAsia Bank does not guarantee or warrant the accuracy, reliability, completeness of the information in this publication.