Trading Proverbs: "When you have to make a choice and don't make it, that is in itself a choice." - William James
The news..
After losing almost 4.5% from the middle of April, the Single Currency recovered strongly last week from a low of $1.1822 to trade above $1.1900. The catalyst came from a lacklustre U.S inflation data on Thursday which thrown doubts about expectations that the Federal Reserve would raise rates as many as four times in 2018.
Along with a battered U.S dollar across the globe last night, the Euro was also underpinned on Monday to reach a high of $1.1996 after comments from ECB Governing Council member Villeroy  saying that the first rate hike would come some quarters and not years after the end of QE. However, a few hours later, the move on the EUR/USD was reversed after ECB's Cœuré , member of the Executive Board, contradicted his colleague saying that the governing council sees rates at present levels for extended period of time, well past the horizon of net asset purchases, dragging down the euro to a  low of 1.1911 against the U.S dollar this morning.
Other factor dragging the euro today is the German preliminary GDP reading which showed that German's economy slowed slightly more than expected in the first quarter of the year.
Technical outlook- EUR/USD- Don't write off a possible new low to $1.1795/1.1822 before the pair bounces back again!
The EUR/USD fell restlessly to as low as $1.1822 last week, hitting our target of $1.1825 highlighted some weeks ago, before rebounding sharply to trade above $1.1900 on last Friday.
In an Elliott wave perspective on the 30 mins Chart, the spike to $1.1996 on Monday could be wave A of a corrective flat structure (given wave 2 was a corrective zig-zag pattern), suggesting further sideways price action in the coming weeks.
Don't write off a possible new low to $1.1795/1.1822 in wave B before the pair reclaims $1.200/50 to complete wave 4 of an impulsive decline.
On the flipside, a re-test of $1.2000 might open the door for $1.2050 followed by $1.2075 in the near term.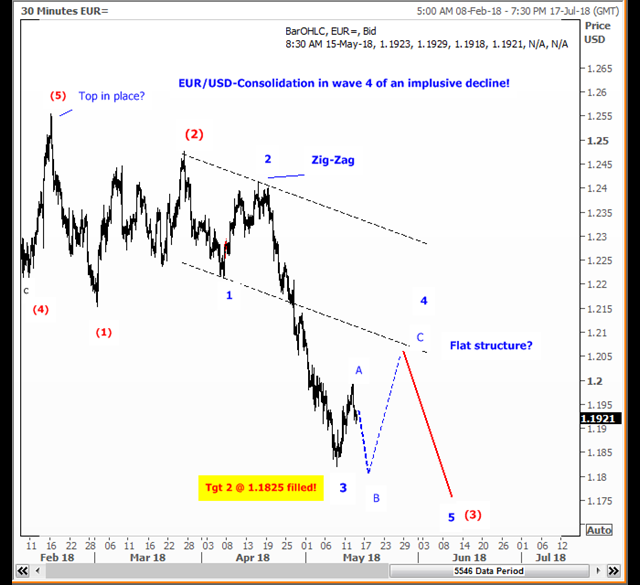 Disclaimer: This communication is provided for information and discussion purposes only. Unless otherwise indicated, it does not constitute an offer or recommendation to purchase or sell any financial instruments or other products. AfrAsia Bank does not guarantee or warrant the accuracy, reliability, completeness of the information in this publication.