The Single currency came under pressure last week after the European Central Bank announced to half the asset purchase program to EUR 30B a month, down from current EUR 60B a month and to extend the program by nine months until end of September 2018 or beyond have spooked the markets. The Euro has slumped from $1.1826 on 26th of October to as low as 1.1573 post ECB last week before meandering in the range of 1.1610-1.1625 this morning.
The sharp decline on the EUR/USD over the last few weeks suggest that the pair may have found a (temporary) top at $1.2092 on 8th September. Besides, on the hourly chart, the price action of the EUR/USD suggests that there could be scope for an acceleration downward to $ 1.1470 followed by $1.1284 in the coming weeks. On the other hand, a move back above $1.1728 might invalidate the dovish count!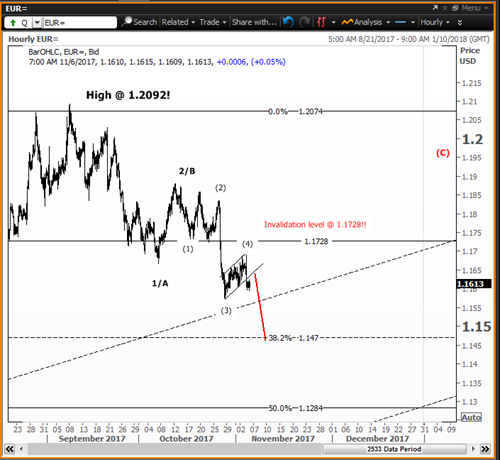 Disclaimer: This communication is provided for information and discussion purposes only. Unless otherwise indicated, it does not constitute an offer or recommendation to purchase or sell any financial instruments or other products. AfrAsia Bank does not guarantee or warrant the accuracy, reliability, completeness of the information in this publication.