"Have the patience to wait, the courage to get out and the integrity to follow your plan" - John Carter
Technical views

The EUR/USD slipped to an intraday low of $1.1831 yesterday, following the poor performance of Merkel's CDU party in German election results. As highlighted on 21st of September, a break of the neckline around $1.1835/50 would set the stage for a "Head & Shoulder pattern"and hence suggesting further decline ahead.

What is a Head and Shoulders pattern?

The head and shoulders pattern is generally regarded as a strong reversal pattern. The formation pattern consists of a price rise followed by a price peak forming the Left Shoulder (1.2069 on 29th Aug 2017), then a higher peak forming the Head (1.2094 on 8th Sept 2017), before a decline occurs once again to a neckline, followed by a rise forming the Right Shoulder (1.2032 on 20th Sept 17), which is lower that the head. The trend line connecting the lows between the left shoulders, the Head and the right shoulder form a neckline. Upon a break of the neckline, the price typically fell sharply to a level that is equal to the distance between the head and the neckline.

On the 30 mins chart, the estimated price target down on the H&S pattern is near $1.1585/1.1600.

On the upside, the initial resistance would emerge at $1.2005 followed by $1.2032.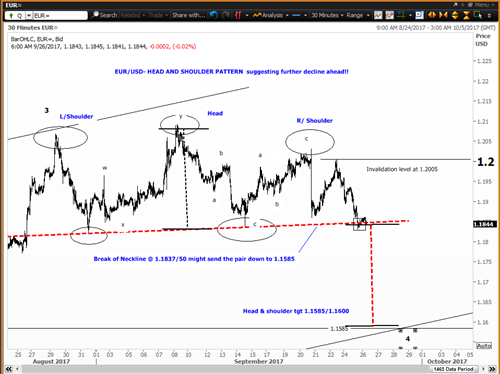 CONTACT US

Interested in Forex ,Bonds ,and structured products?

Please feel free to email us or give us a call. Our dedicated team looks forward to advising you on our suitable customized and structured solutions to meet your specific hedging and investment requirements on different asset classes.

FX-Treasury@afrasiabank.com