After seven consecutive weeks of declines, the longest losing streak since 2001, equity markets logged strong gains during the last week of the month. Selling exhaustion, positive retail earnings reports during the last week, diminishing covid cases as well as an exit from lockdowns in Shanghai and latest inflation data reported all supported the markets.
 Investors were over concerned about Fed Balance Sheet reduction and pace at which the balance sheet shrinkage would occur. However latest data let operators hope that the Fed will be less severe on the monetary tightening, pushing further the risk of recession:
Core inflation numbers down in April from February's peak at 4.9%.
Personal income rose only 0.4% in April (peaking from last month).
Consumer expectations fell more sharply than expected in May.
These data support investors' view that as inflation declines and the US economy slows, the Fed may loosen monetary tightening a notch and be more flexible after its July meeting. Adjusted for inflation, consumption increased in April, supported by solid job growth and accumulated savings. Despite a lowered outlook from some retail giants like Target and Walmart, overall consumer demand remained resilient.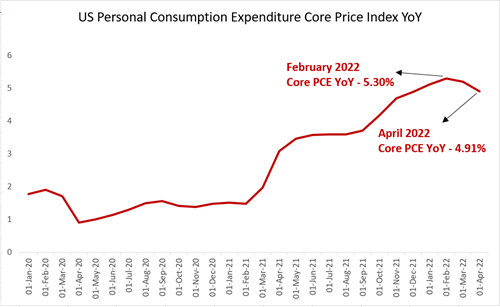 Fed policy will remain a key focus over the next 3 months and volatility will probably continue with the path of inflation, but unless the Fed changes its course on their quantitative tightening, we maintain that the equity market will be in a better position during the last part of 2022 (mid-terms elections also being a factor).
Additional portfolios considerations:
With the recent rise in yields, bonds are now attractive. Adding high-quality bonds will offer useful income and diversification benefits.
With the US dollar now depreciating against a basket of major currencies, opportunities are being formed in emerging-market stocks which have been heavily discounted.
| | |
| --- | --- |
|   | Monthly Performance |
| S&P 500 (USD) | +0.01% |
| Nasdaq Composite (USD) | -2.05% |
| STOXX Europe 600 (EUR) | +0.15% |