Cards
Our Debit and Credit Card Solutions
AfrAsia offers a range of debit and credit card solutions to suit every need. Explore our select card range and choose the right card for you.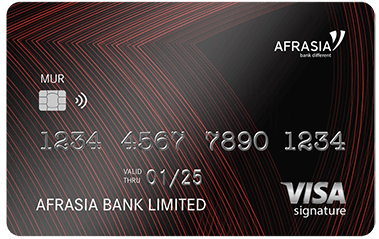 VISA Signature Debit Card
Add a luxurious touch of convenience to your lifestyle with the AfrAsia Visa Signature Debit Card.
Apply now

VISA Business Debit Card
Enjoy the convenience of managing expenses tailored to your business needs with the AfrAsia Visa Business Debit Card.
Apply now

World Mastercard Credit Card
Discover the AfrAsia World Mastercard®, a credit card that opens up a whole new world of possibilities for you.  
Apply now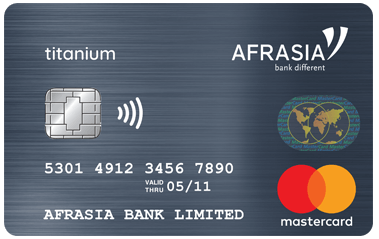 Titanium Mastercard Credit Card
Rewards fit for a lifestyle of luxury. Discover the AfrAsia Titanium Mastercard® exclusive set of exceptional benefits.
Apply now