About AfrAsia
Regional banking with global reach
Headquartered in the Mauritius International Financial Centre with representative office in South Africa, AfrAsia Bank Limited specialises in banking that builds bridges between Africa, Asia and the World.
The Bank's entrepreneurial approach helps to develop flexible financing and investment solutions and provide tailor-made advice. In addition to our anchor Mauritian shareholder, IBL Ltd - the largest conglomerate in the country - other strong strategic partners include National Bank of Canada (NBC) and Intrasia Capital (Singapore).

AfrAsia Bank Limited's core banking and transactional capabilities are also complemented by its asset management arm, AfrAsia Capital Management Limited. AfrAsia's experienced team, coupled with its regional foundations, give customers the reliability and trust of a global banking network. AfrAsia Bank Limited helps clients achieve their financial aspirations, and our services are always swiftly delivered. 
Our core areas of expertise
Commercial and corporate banking solutions, from cash management to M&A.

Short term funding
Term funding
Structure products
Transactional banking

Products and services that meet the needs of global business companies, trusts, funds and foundations.

Transactional & payment services
Cash & liquidity management
Other products & services

Personal & Private Banking

Day to day consumer banking and investment solutions.

Private banking
Personal banking
Asset management & custody
Asset management

Tailored foreign exchange, interest rate and structured derivative solutions for both the local and regional market.

Foreign exchange
Money markets and fixed income
Structuring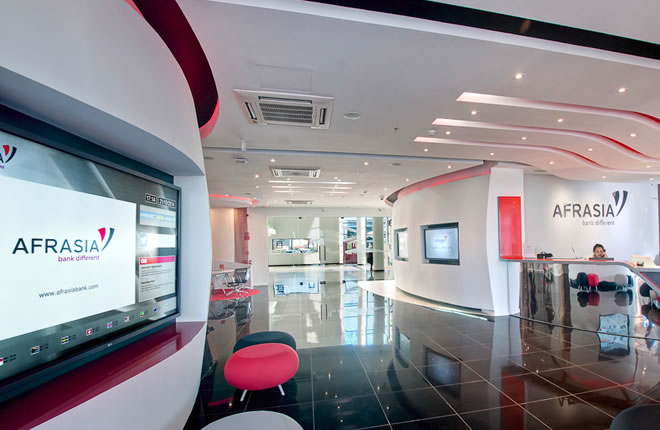 AfrAsia Capital Management Limited
With investment expertise and made-to-measure service, our dedicated asset management arm helps our client achieve their financial goals.
View website
Recognition

Milestones and Accolades

2019

The First Mauritian Bank to join the GRI Community

Awards

Oracle HCM Cloud Rubies Awards 2019

"Keep it in the Family" category

The Cloud for Millennials Award

Burj CEO Awards

Most Innovative Bank in Mauritius

EMEA Finance's African Banking Awards

Best Bank in Mauritius

2018

Instant account opening with a Customer On-boarding App
First local bank to offer Contactless Technology on all its credit cards
Launch of the first sustainability summit in Mauritius

Awards

EMEA Finance's African Banking Awards 2018

The Best Bank in Mauritius

Best Investment Bank in Mauritius

Most Innovative Bank Pan-Africa

Banker Africa East Africa Banking Awards 2018

Best Corporate Bank

2017

Launch of AfrAsia Foundation and AfrAsia School
AfrAsia Bank accredited by the Bank of Mauritius as a Primary Dealer
Recorded a Net Profit After Tax of MUR 804.7m (86% year-on-year)
Pioneered successful deployment of cloud-based financial solutions in Mauritius

Awards

Awards for 2017 "Banker Africa-East Africa"

Best Corporate Bank

PwC Corporate Reporting Awards (Annual Report 2016)

Financial Institutions

Online Reporting

Risk Management Disclosures - Financial Institutions

Global Brands Magazine

Best Banking Brand in Mauritius

Most Innovative Treasury Services

Best Financial and Investment Solutions Provider

Best Credit Card Rewards Program

2016

148% growth in Net Profit After Tax recorded
Launch of new DARE culture

Awards

GLOBAL BRANDS MAGAZINE

Most Innovative Treasury Services

Best Financial and Investment Solutions Provider

Best Credit Card Rewards Program

BANKER AFRICA

Best Investment Bank in Mauritius

AFRICAN EXCELLENCE AWARDS

'Sports & Lifestyle' category

CORPORATE REPORTING AWARDS - PRICEWATERHOUSECOOPERS MAURITIUS

Financial Institutions (Annual Report 2015)

2015

Launch of AfrAsia Bank Mauritius Open, the first international tri-sanctioned tournament.
Launch of VISA Platinum prepaid card in MUR, EUR and USD

Awards

PWM/ THE BANKER

Best Private Bank in Mauritius

EMEA FINANCE PROJECT AWARDS

Best transport infrastructure deal in EMEA (for our support in the Ethiopian Railways Corporation's rail infrastructure upgrade)

EUROMONEY

Best Private Bank in Mauritius

2014

National Bank of Canada, one of Canada's leading banks, acquires shares in AfrAsia
Opening of Ebene branch

Awards

WORLD FINANCE

Best Wealth Management Provider in Mauritius

CORPORATE REPORTING AWARDS - PRICEWATERHOUSECOOPERS MAURICE

Online Reporting (Annual Report 2013)

Financial Institutions (Annual Report 2013)

EUROMONEY PRIVATE BANKING SURVEY 2014

No. 1 Private Bank for Fixed Income Portfolio Management in Mauritius

Best Private Bank for Private Equity Investment in Mauritius

2013

Launch of XtraMiles, Africa's first banking rewards programme

Awards

GLOBAL PRIVATE BANKING AWARDS - PRIVATE WEALTH MANAGEMENT / THE BANKER

Best Private Bank in Mauritius 2013

EUROMONEY PRIVATE BANKING SURVEY

Best Local Private Bank in Mauritius 2013

CORPORATE REPORTING AWARDS - PRICEWATERHOUSECOOPERS MAURITIUS

Online Reporting (Annual Report 2012)

AFRICAN BANKER AWARDS

Best Bank in Southern Africa

THE AFRICA REPORT

Listed among the Top 200 African Banks – 175th in Africa

2012 and before

2011: Launch of AfrAsia Global Custody Services in association with ABN AMRO Bank and BNP Paribas
2010: Opening of Cape Town and Johannesburg representative offices
2009: First Mauritian bank to offer Foreign Institution Investor (FII) licenses
2007: Launch of AfrAsia Bank Limited

Awards

CAMEL RATING – BANK OF MAURITIUS

Highest Camel Rating 2+ in Mauritius December 2012

THE BANKER

2012: Listed among the Top 300 African Banks - 175th in Africa

EUROMONEY PRIVATE BANKING SURVEY

Best Private Bank for the Super Affluent in Mauritius 2012

Best Local Private Bank in Mauritius 2012

Best Private Bank in Mauritius of 2011

GLOBAL HR EXCELLENCE AWARDS 2012 - WORLD HRD CONGRESS

HR Leadership Award

CITIBANK

Quality Recognition for achieving high Straight Through Processing rate for payments and transfers 2010

WORLD FINANCE

Most Innovative Bank 2008