29 Jun 2023
Indulge in Exclusive Benefits with the AfrAsia Visa Signature Debit Card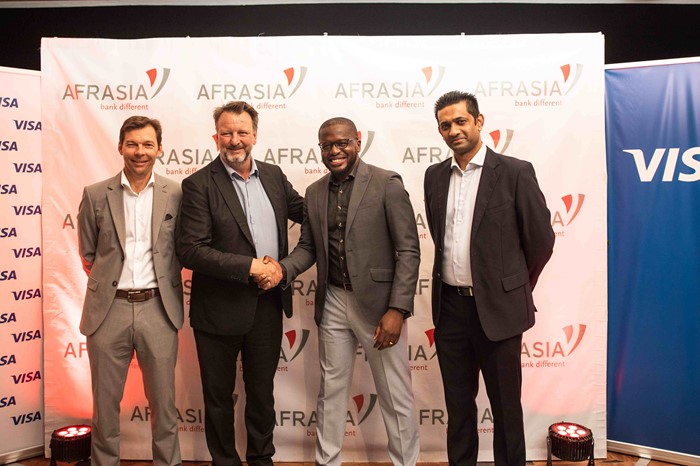 AfrAsia Bank has partnered with Visa for the official launch of its Signature Debit Card. This new product offering marks a significant milestone in the Bank's commitment to enhance customer experiences by providing cardholders the convenience, security, and flexibility needed to manage their financial transactions effectively. To mark this special occasion, a private event was held on Wednesday 28 June 2023 at IconeEbene's Rooftop Restaurant.
The AfrAsia Visa Signature Debit Card presents a wide array of exceptional features and benefits. Firstly, it offers the convenience of being available in multiple currencies, including MUR, EUR, and USD. Moreover, cardholders have the flexibility to extend unlimited supplementary cards to their loved ones while retaining full control over spending limits.
With the AfrAsia Visa Signature Debit Card, accessing cash becomes effortless as cardholders can withdraw funds from any local ATM without incurring any additional charges. Furthermore, the card ensures flexibility by allowing users to set their desired monthly usage limit, facilitating efficient account management.
For frequent travellers, the AfrAsia Visa Signature Debit Card enhance the overall experience. Cardholders and their travel companions can enjoy the privilege of complimentary membership to LoungeKey, providing access to an extensive network of over 1,200 airport lounges worldwide. Additionally, the card offers a multi-trip travel insurance feature, providing peace of mind during journeys and enhancing the overall enjoyment of travel. Cardholders also get complimentary access to premium concierge services, available 24/7, which offer personalized information and referrals on a wide range of topics including travel, dining, and entertainment. This feature ensures that cardholders receive tailored assistance to make the most out of their experiences.
Speaking at the launch event, Nicolas Hardy, Chief Operating Officer at AfrAsia Bank, stated, "We have crafted a debit card that not only meets but surpasses the evolving needs and expectations of our valued customers. At the heart of our bank's ethos lies a dedication to delivering excellence and quality in our financial offerings. We recognise that our clientèle desires a secure and seamless banking experience coupled with a range of lifestyle benefits. Our new Signature debit card stands as a testament to our commitment in fulfilling these aspirations."
Fabrice Konan, the Country Lead of Visa, also seized the opportunity to discuss the partnership between Visa and AfrAsia Bank, highlighting the shared vision that drove the design and development of the Signature Debit Card. He added that "Since their inception payment cards have allowed consumers and businesses to buy and sell with greater convenience. In many countries this has fostered economic growth and increased the quality of life by reducing the informal economy, strengthening transparency in the economy, reducing the cost of cash and boosting jobs. Visa remains focused on continuing to build strong partnerships such as the one we have with AfrAsia Bank centred on our purpose to uplift everyone everywhere by being the best way to pay and be paid."
For more information about the AfrAsia Visa Signature Debit Card, please visit the website at www.afrasiabank.com/en/private/cards.