24 May 2023
AfrAsia Foundation partners with Reef Conservation to launch the 1st Citizen-Science App to advance mangrove preservation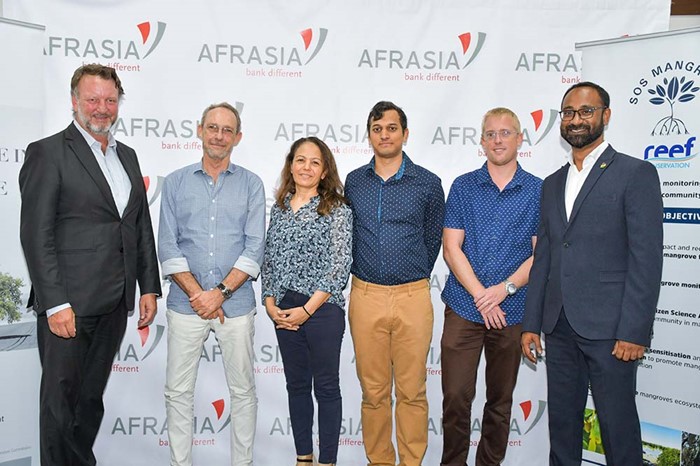 AfrAsia Foundation, in collaboration with NGO Reef Conservation, hosted a cocktail on Wednesday 24 May 2023 at its Port Louis offices for the launching of 'Mangrove Matters', a first citizen-science mobile application designed to monitor mangrove conservation in the marine ecosystem. This android-friendly application is available for free download on the Play Store, providing an opportunity for both Mauritians and foreigners to actively contribute by capturing geo-localised pictures of Mangroves, to assess the to the health, structure and environmental pollution levels of mangrove forests across the island. This initiative encourages enthusiastic participation and aims to make a positive impact on the wider population.
The application Mangroves Matter not only promotes societal awareness about the benefits of mangrove forests but also acts as a baseline to facilitate data collection and take corrective restoration measures against the potential environmental threats. Keshav Ramdhan, Research Project Assistant at Reef Conservation emphasised the significance of mangroves for the coastal communities including their role in ensuring food security, creating job opportunities, hosting diverse organisms, and protecting the coastline. "It's high time to recognise the invaluable contributions of mangroves in protecting and revitalizing our environment. The contribution and support provided by AfrAsia Foundation has been pivotal throughout the design and implementation phases of this application. It is an effective platform to educate the community towards environmental concerns and share expertise in an open and collaborative way. This is a win-win situation as we get to receive pertinent data from the community and in exchange they will gain more knowledge through regular feedback during workshops, training sessions and sensitising campaigns."
"With the rising concern about climate change, our contribution to the conservation and protection of the Mauritian's biodiversity is more crucial than ever. As a responsible Bank, we understand the importance of maintaining the integrity of the ecosystem especially for the livelihood and welfare of our coastal communities. Mangroves Matter is an innovative mechanism to share the responsibility for ensuring that mangroves thrive and continue to offer essential ecosystem services. We believe that this tool will further drive our ecological ambitions to create significant value to the different stakeholders while providing a pathway to a measurable, shared accomplishment." explained Alvin Peerthy, Senior Manager Sustainability & CSR at AfrAsia Bank.
The event also served as platform to acknowledge the longstanding collaboration between AfrAsia Foundation and Reef Conservation, highlighting all the key initiatives undertaken over the years including the contribution to the implementation of mangrove monitoring along the South-East coast, sensitization and awareness campaigns, the development of new educational tools and construction of a mangrove nursery in Melville barachois amongst few.