14 Sep 2023
AfrAsia Bank raises its commitment to mangrove restoration with a second donation of MUR 1.7m to NGO Reef Conservation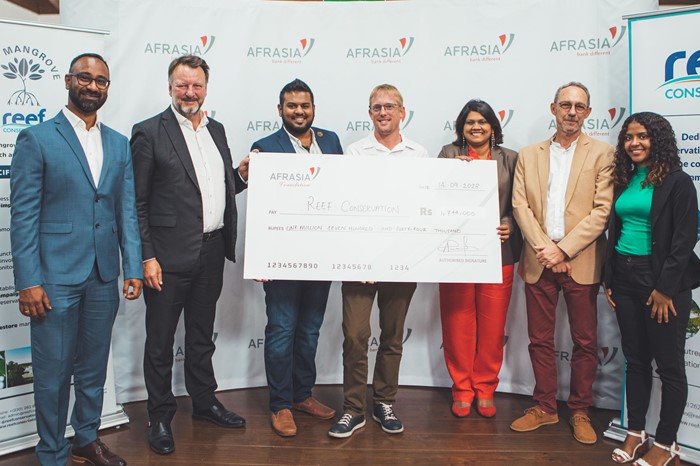 AfrAsia Bank reaffirms its long-term commitment to the preservation of Mauritius' mangrove ecosystems by announcing a generous donation of MUR 1.7m to the NGO Reef Conservation. This donation, announced on 14 September 2023, represents the bank's second contribution, following a previous donation equivalent to MUR 1.8 million. The earlier donation kickstarted the SOS Mangrove Programme, which focuses on long-term monitoring, education, and restoration efforts in response to the Wakashio oil spill. This ongoing support underscores the bank's dedication to safeguarding Mauritius' ecological heritage and promoting mangrove habitat restoration across the island.
The AfrAsia Foundation, in partnership with Reef Conservation, is advancing to phase two of their joint initiative, building on the achievements of the initial phase. The first phase concentrated on education, highlighted by the launch of 'Mangroves Matter,' a citizen-science mobile application dedicated to monitoring mangrove conservation in the marine ecosystem. In this second phase, the primary focus shifts to establishing a mangrove nursery at Melville Barachois. This nursery will play a pivotal role as a central hub for cultivating and nurturing mangrove seedlings, ensuring their health before transplantation into vital mangrove locations across Mauritius.
Keshav Ramdhan, Research Project Assistant at Reef Conservation, speaking at the cheque remittance event stated: "This second donation from AfrAsia provides us with the resources required to carry on the SOS Mangrove programme, including the Melville Barachois mangrove nursery, and support our efforts in promoting mangrove restoration throughout Mauritius. This phase is a pivotal step in our journey to heal and protect our coastal ecosystems."
Alvin Peerthy, Head of Sustainability & CSR at AfrAsia Bank, emphasized the bank's dedication to preserving Mauritius' natural heritage: "Mangroves are a vital part of our coastal ecosystem, and we are committed to the restoration of their habitat as they are crucial for our island's future. By investing in the SOS Mangrove programme and related initiatives from Reef Conservation, we aim to contribute significantly to the sustainable recovery of our unique coastal environment."
The significance of this phase two cannot be understated, as it directly addresses the ongoing challenges regarding restoration measures and its far-reaching ecological consequences. Reef Conservation, in partnership with local and international experts, will oversee the development and management of the Melville Barachois mangrove nursery, in alignment with the broader objective of the "SOS Mangrove" Programme, which seeks to restore, protect, and raise awareness about the vital role that mangroves play in preserving marine biodiversity, preventing coastal erosion, and sustaining local communities.
The SOS Mangrove program benefits significantly from the invaluable scientific support of the International Society for Mangrove Ecosystems (ISME), which is headquartered in Okinawa. During their latest visit in September, Professor Miyagi and other mangrove survey experts from ISME collaborated closely with the SOS Mangrove team to conduct comprehensive analysis and research in Melville. La Société Barachois de Melville has been another essential partner in the establishment of the mangrove nursery.