06 Sep 2023
AfrAsia Bank is honoured as "Best Bank in Mauritius" for second consecutive year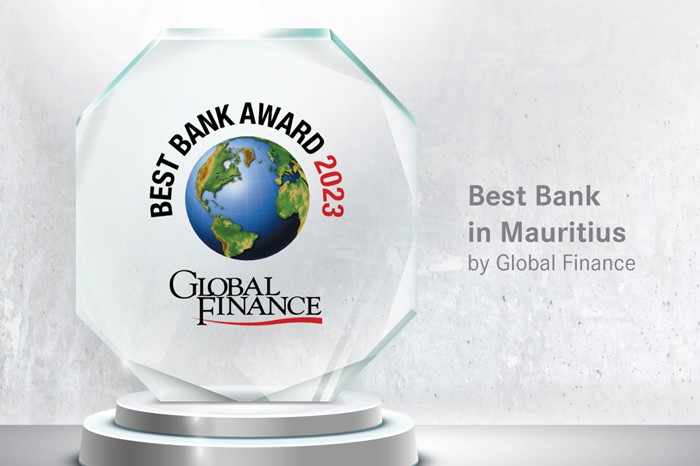 AfrAsia Bank has been honoured, for the second consecutive year, as the Best Bank in Mauritius 2023 by Global Finance Awards. The 30th edition rewarded banks who attended carefully to their customers' needs in challenging markets and accomplished strong results while laying the foundations for future success. 
This achievement underscores the substantial impact and contribution of AfrAsia Bank as a key systemic banking entity, with agility to stay relevant in the rapidly evolving industry landscape. It solidifies the distinct performance of AfrAsia Bank amongst its peers, and its ability to maintain consistency in performance amidst external challenges.
 "This year's Best Bank Awards recognize the financial institutions that offer the broadest range of services as well as the reliability required for long-term financial relationships," said Joseph D. Giarraputo, founder and editorial director of Global Finance.
Thierry Vallet, Founder Executive of AfrAsia Bank, said, "We are honoured to receive the title of 'Best Bank in Mauritius 2023' for the second year running. This recognition does not only highlight our operational success but underscores the disciplined execution of our strategy, especially in the face of a complex macroeconomic landscape. Every accolade we earn signifies a significant step in AfrAsia Bank's ever-evolving journey, reinforcing our solid momentum as we pursue our local and regional objectives. Our success comes from our teamwork and passion to serve our clients. All these played a pivotal role in propelling us forward.  We also want to say a big thank you to our customers for the trust they have placed in us and for motivating us time and again to reach new heights. Looking ahead, we hope that this achievement will serve as a stepping stone, opening doors to new avenues of growth and presenting us with the opportunity to serve a broader spectrum of clients in Mauritius and beyond."
The Global Finance Awards are one of the major awards in the Banking & Financial Services Sector, across the globe. The jury selected the winners after consultations with corporate financial executives, analysts and bankers throughout the world. Global Finance's awards have become a trusted standard of excellence for the global financial community. Global Finance Awards have become a trusted standard of excellence for the global financial community.