03 Oct 2022
Start of the qualifying rounds for the PRO-AM of the AfrAsia Bank Mauritius Open 2022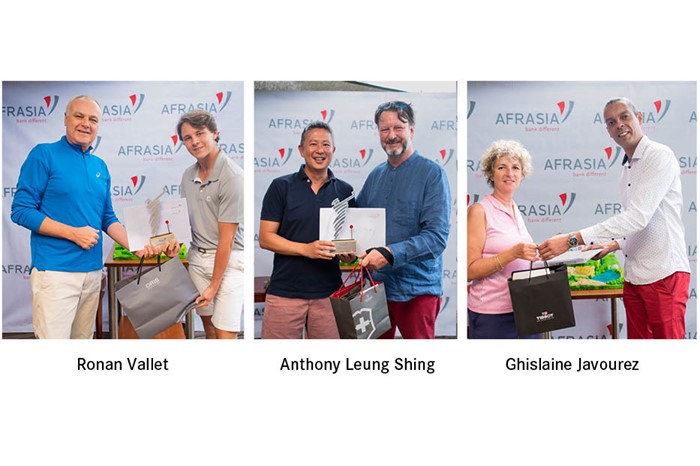 AfrAsia Bank has kicked off the qualifying rounds for the PRO-AM of the AfrAsia Bank Mauritius Open on Sunday 02 October at the Heritage Golf Club, Bel-Ombre. After a three-year break, the event, welcomed more than 60 golfers who competed in teams of four in a beautiful fair-play atmosphere.
Three PRO-AM places were in play on this golfing day. Ronan Vallet and Anthony Leung Shing won the competition with 29 points (gross) and 45 points (net) respectively. In the ladies' ranking, Ghislaine Javourez emerged victorious with 38 points (net score) securing the third place to play in the PRO-AM.
"AfrAsia Bank has always been associated with golf since our inception because this sport reflects the values we uphold, namely passion, integrity and agility among others. It is within this perspective that we started the AfrAsia Bank Mauritius Open to further reinforce the privileged relationship we share with our various partners around the world while making a significant contribution to the Mauritian economy. Today, October 2nd, marks the 15th anniversary of our bank and what better way than to celebrate it on the green with our clients and collaborators - thanking them for their support and trust throughout our journey", commented Thierry Vallet, Interim CEO of AfrAsia Bank.
The day ended with the traditional prize giving ceremony in partnership with Heritage Golf Club, Adamas and PhoenixBev.
By way of reminder, the AfrAsia Bank Mauritius Open will be held from 15-18 December at Mont Choisy Le Golf, Grand-Baie. The 6th edition of this competition is sponsored by the DP World Tour (formerly known as European Tour) and the Sunshine Tour and will be hosting over 156 international golfers competing for the €1 million prize money. The last tournament, which took place in December 2019, was won by the Danish Rasmus Højgaard. The tournament will be broadcast worldwide and is expected to reach over 450 million viewers.