28 Oct 2022
AfrAsia donates post-mastectomy prosthesis to Link to Life breast cancer survivors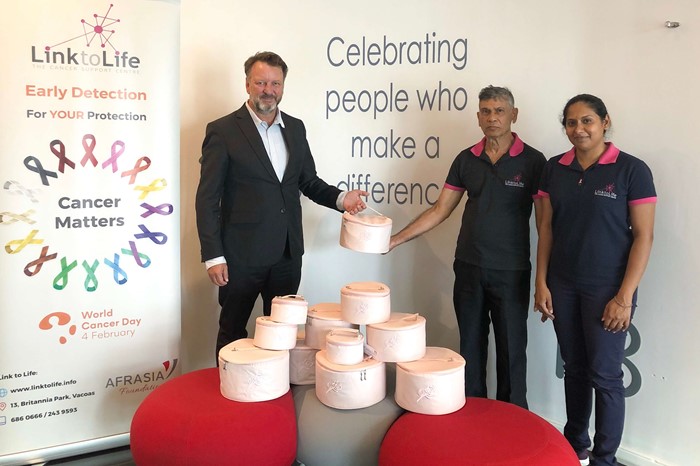 AfrAsia, through its foundation, has made health one of its priority causes, notably its fight against breast cancer through screening.
Thus, as part of its 15th anniversary, the bank donated 150 breast prostheses to the NGO Link to Life worth MUR 547,500.00, ramping up its commitment to the Breast Cancer Awareness month in October. The provision of prostheses complements the Bank's efforts to help breast cancer survivors through their long post-operative recovery period and improve their living conditions with dignity.  
Annually, of the 2000 new cases of cancer recorded in Mauritius, about 500 are Mauritian women diagnosed with breast cancer and approximately 100 to 150 of them potentially have to undergo a mastectomy. After this surgery, which involves the removal of the whole breast, many women become uncomfortable with the changes in their physical appearance. These changes can be permanent or temporary, depending on rather or not breast cancer patients have a reconstructive surgery.


Selvina Moonesawmy, the programme Coordinator from Link to Life Cancer Support Centre, stated that, "The physical aspect of the patient is of utmost importance, especially after the mastectomy.  Wearing the breast prosthesis gives a sense of self-esteem and brings back confidence for the breast cancer patient. Thanks to the collaboration and partnership with AfrAsia Foundation, we will be able to cater for breast cancer patients – give them the support needed so that they can live their life normal."


Commenting on this initiative, Thierry Vallet, interim CEO of AfrAsia Bank added that, "Undertaking a mastectomy is a traumatic experience for a breast cancer patient and we know how self-confidence can be restored when a woman is fitted with a prosthesis. As a bank deeply invested in our community, we are fully engaged in helping breast cancer patients fight back and move forward after treatment.  This donation of prostheses goes well in line with our ambition to support breast cancer fight and we are pleased to raise the bar of giving to Link to Life."


Alvin Peerthy, the Head of Sustainability & CSR at AfrAsia believes that the partnership with Link to Life is precious! "We have been working with Link to Life for more than 8 years now and the team has shown great dedication in the fight against cancer.  They provide quality cancer screening facilities and remarkable assistance for their cancer patients during and post treatments. Link to Life has been an important collaborator that has accompanied us throughout years in our various initiatives within the Foundation's Health pillar. Thanks to this collaboration, since 2017, more than 12,000 screenings were conducted through the donation of ultrasound machines.  Moreover, several workshops are organised on a yearly basis aiming at raising awareness among Mauritians society on the importance of being screened and how early screening is important to treat but also to limit the after-effects".