26 Jul 2022
AfrAsia Bank awarded 2 international accolades for its private banking services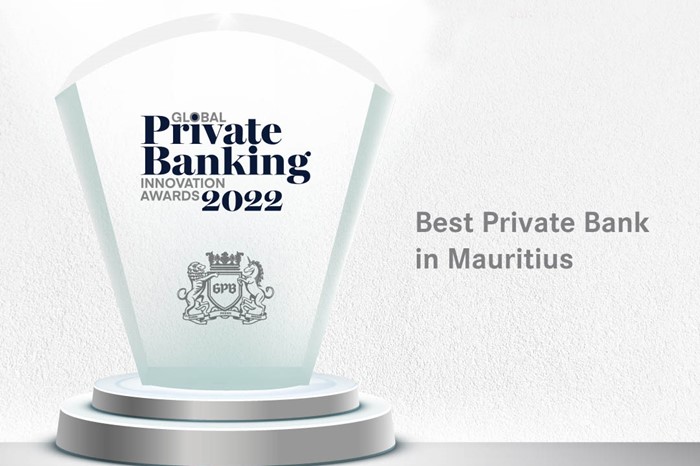 AfrAsia Bank has won the title "Best Private Bank – Mauritius" for the second consecutive year at the Global Private Banking Innovation Awards, organised by Global Private Banker and The Digital Banker at the VIP Winners Champagne Gala at Mandala Club, Singapore on Thursday 21 July 2022. The awarding body is a globally trusted news, business intelligence and research partner for the worldwide financial services sector that rewards the renowned Private Banks, Family Offices and Wealth Managers demonstrating elite levels of advisory, unbiased research, bespoke solutions and their distinguished individuals' contribution to the industry.
Earlier last month, AfrAsia Bank was also bestowed with the prestigious accolade of "Best Private Bank of the Year Mauritius" at the International Banker Awards Middle East and Africa 2022, another recognition testifying the service quality in the private banking space.  International Banker is a magazine from the Finance Publishing publications bringing in-depth analysis of the most pressing economic issues globally. The awards aimed at rewarding top-ranking organisations setting service benchmarks within the financial industry that help to drive economic growth in the countries in which they operate.  
Commenting on these recent wins, Thierry Vallet, Founder Executive & Interim CEO at AfrAsia Bank, stated "These awards demonstrate the underlying commitment and effort of our dedicated team in delivering seamless private banking services to our clientèle. With the evolving clients' requirements and market challenges, we strive to accompany them every step of the way by continuously enhancing our high-end bespoke service and focus on nurturing privileged relationships built on trust, transparency and expertise. We believe we are not just bankers for our clients, we are a partner for them."
Other notable achievers at the Gala night include JP Morgan, BNP Paribas, Standard Bank, JP Morgan Chase and Morgan Stanley.  Sharing the winning stage with these renowned financial banking institutions enables us to position Mauritius internationally in the banking sphere.