04 Feb 2021
AfrAsia Bank Mauritius & Link to Life: Together to support cancer awareness in Mauritius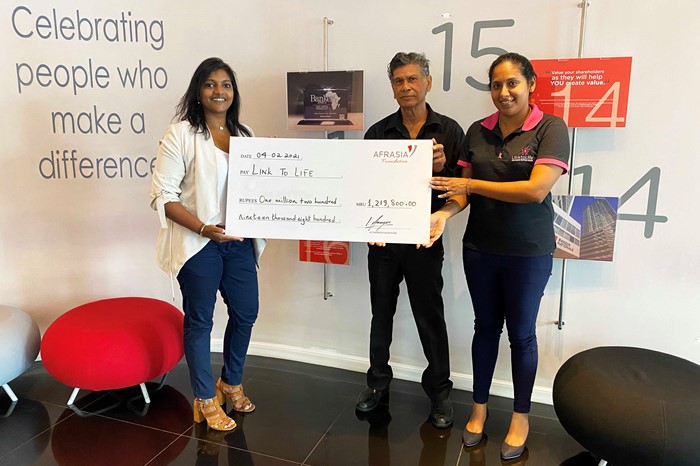 To mark the celebration of World Cancer Day, AfrAsia Foundation reiterates its engagement alongside the NGO Link to Life for the prevention of cancer and its precocious diagnosis.
Link to Life was honoured with a donation of Rs 1.2 million by the Foundation, represented by Luvna Arnassalon-Seerungen, Manager & Head of CSR & Sustainability, at an event held today at the Ebene branch of AfrAsia Bank.
Cancer prevention is an on-going battle that the AfrAsia Foundation is fighting alongside Link to Life, since 2014. The awareness campaigns have contributed to the screening of more than 2,000 new cases each year. Thus, educating people about the disease and highlighting the importance of early detection is another step towards winning the war against cancer.
"It has been an immense pleasure for us to collaborate with AfrAsia for the last 8 years in our fight against cancer.  The Foundation has proven to be a trustworthy partner by supporting the various activities and services targeting not only cancer patients but also the public in general through sensitisation. The relationship between AfrAsia and Link to Life has strengthened through years and has proven to be fruitful and successful especially in providing the Philips ultrasound machine, the best when it comes to early detection of cancer for the public. For the past four years, this equipment has enabled the NGO to provide breast screening to more than 2,500 women at our Vacoas premises and ultimately made breast screening accessible to more than 12,000 women islandwide", said Rajendraprasad Gangoosingh, President of Link to Life
The projects undertaken through this collaboration include Movember and Women's Health Month with the aim to raise consciousness about cancer amongst the employees of the Bank, as well as within the broader public. Moreover, the Movember initiatives, through the active involvement of AfrAsia staffs, has raised funds for the purchase of a linear ultrasound probe and ultrasound machine and even sponsored the project "Prostate Cancer Awareness and Screening" in 2019, targeting communities living in vulnerable areas of the island.
 "Sustainable banking remains a strategic priority for us. We understand the challenge of social significance and believe in helping the community we serve.  For the past eight years, the Foundation has been committed to supporting the various awareness-raising projects and cancer screening facilities carried out by Link to Life. Committed to being a "responsible bank", the Foundation continue to uplift the social and environmental responsibility aspirations of the AfrAsia Group while making a significant difference in our society.", commented Sanjiv Bhasin, CEO of AfrAsia Bank.
AfrAsia Foundation and Link to Life's mission continues...Together, let's shape a world of difference.