11 Nov 2021
AfrAsia Bank – Best Private Bank & Best Bank in Mauritius by EMEA Finance Magazine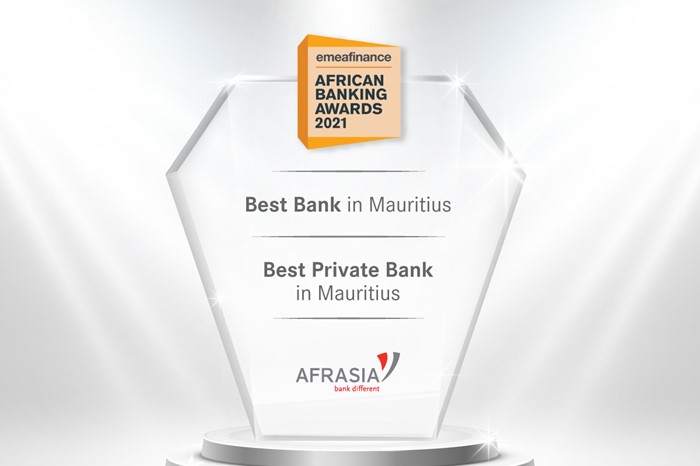 EMEA Finance has awarded AfrAsia Bank with the title of "Best Bank in Mauritius" for the fifth consecutive year at the African Banking Awards 2021. In the same line of recognition, AfrAsia was also bestowed with the "Best Private Bank in Mauritius" accolade for the first time by this award body.
This 14th awards edition focussed on rewarding financial institutions that have demonstrated that adversity drives opportunity in Europe, Middle East and Africa. "Many of the success stories in the banking sector during the coronavirus pandemic have at their core a preparedness and culture geared towards client satisfaction. Our winner of the awards - Best Bank in Mauritius and Best Private Bank in Mauritius - is definitely one of these firms. AfrAsia Bank has since its founding been driven by a motivation to exceed customer expectations and push the envelope on digital services. Similarly, their wealth management offering continues its quick growth, driven in part by its steady introduction of unique products. They even launched a private banking and wealth management campaign adding 'a human touch' by connecting directly with customers, proving their agility during this critical time", stated Christopher Moore, Publisher & CEO of EMEA Finance magazine.
"The past year remained a challenging one with a difficult operating environment. The African banking landscape continued to be dynamic on all fronts and, needless to say, maintaining our competitive edge remained crucial. In this vein, we have realigned our priorities and went the extra mile to continually create sustainable value for our different stakeholders by anchoring ourselves on our resilient foundation. These prestigious awards not only attest to the success of our strategy but also recognise our agility to adapt to the digital transformation to remain connected with our clients despite these testing phases. They also accentuate our inherent belief of crafting and nurturing privileged relationships built on trust, transparency and expertise", commented Thierry Vallet, Interim CEO of AfrAsia Bank.
Besides AfrAsia Bank, the winners comprise of reputable global banking institutions like Citi, JP Morgan, Goldman Sachs, Deutsche Bank and Société Générale, amongst others.