11 Feb 2021
AfrAsia Bank – Best Bank in Mauritius for the 4th consecutive year by EMEA Finance Magazine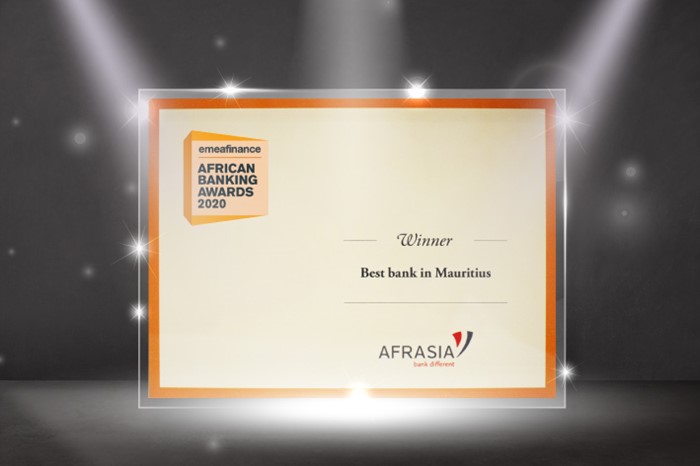 EMEA Finance has bestowed AfrAsia Bank with the Best Bank in Mauritius accolade, for the fourth consecutive year, at the African Banking Awards 2020.
Each year, EMEA Finance, which reports financial and banking developments in Europe, Middle East and Africa, recognises the best banks for driving innovation in the financial services space.
Commenting on the award, Christopher Moore, Publisher of EMEA Finance magazine, stated that "Almost since its launch, EMEA Finance has been reporting on AfrAsia's ambitious strategy and its steady and sustainable growth. In a turbulent and challenging year, the Bank again showed its flair and dynamic nature alongside a commitment to all its clients, we are proud to recognize the bank with the Best Bank in Mauritius. Product innovation and close customer support and understanding are key drivers in AfrAsia's present and long-term success. We expect to see even more innovation and digital transformation to come from the Bank in 2021."
"This recognition confirms the impact of our strategy and a job well done to differentiate ourselves in the marketplace by supporting our clients in different geographies and across our wide product range. Our well diversified portfolio, customer proximity, and in particular the committed employees continue to make the difference. Whilst we make the necessary improvements to enhance the customer experience, it's comforting to see these having a positive impact and it is a great source of motivation to keep on going the extra mile to create value for all stakeholders.", highlighted Sanjiv Bhasin, CEO of AfrAsia Bank.
Besides AfrAsia Bank, the winners comprise of reputable banking institutions in the African markets including Standard Bank, ABSA, Deutsche Bank, Citi and Société Générale amongst few.