08 Jan 2021
A first for Mauritius – Two AfrAsia Bank employees honoured by the prestigious Elliott Wave International certification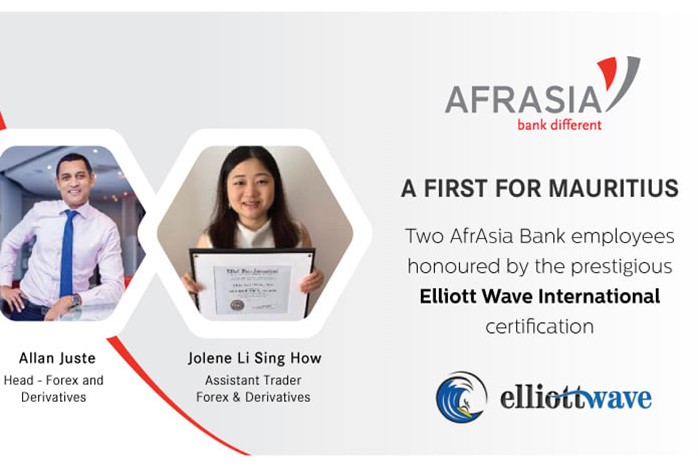 AfrAsia Bank recently reinforced its Forex Trading expertise with two of its employees earning the "Certified Elliott Wave Analyst" (CEWA) designation from Elliott Wave International, the largest independent financial analysis and market forecasting firm in the world. Allan Juste – Head - Forex and Derivatives, and Jolene Li Sing How – Assistant Trader Forex & Derivatives, have joined the elite group of technical analysts. They are the first Mauritians to be accredited such a recognition, elevating the AfrAsia brand as a sustainable forerunner in the trading space.

"We pride ourselves of having a young and dynamic team committed to ensure that they remain in the forefront of technical excellence. AfrAsia Bank has an in-house FX Trading Academy to identify and develop internal talent in this field. We are proud to count amongst us two experts who are better equipped to design and offer new forex trading products structured after superior research and analysis for our clients," shared Sanjiv Bhasin, CEO.

With 13 years of operations, AfrAsia Bank is today amongst the leading local forex market operators in terms of turnover (11% of market share as at 30 June 2020). In a nutshell, the Elliott Wave Principle is a detailed description of how groups of people behave in the financial markets in view of analysing and making market forecasts for different asset classes. "Through rigid rules and guidelines, it has been the Holy Grail of FX Chart technique for the AfrAsia Trading Desk over the last seven years, helping the latter to remain objective every day in a world full of uncertainty," said Allan Juste.

The Bank is continuously investing in the training of its staff to provide the best Forex management and Forex services to its niche clientele in Mauritius and the region. Commenting on this success, Jolene Li Sin How added, "The CEWA designation represents a milestone in my early trading career. It serves as a vital instrument for me as an FX trader to get the gist of the market. Today, it is having a bandwagon effect all over the world. I would genuinely recommend Elliott Wave Theory to any trader-en-herbe out there."

Elliot Wave international provides timely analysis of every major world market (stocks, currencies, bonds, energy, metals, commodities), 24 hours a day on ElliottWave.com and proprietary web systems like Bloomberg. Their subscriber base includes the world's major banks, money managers, hedge funds, insurance companies and pension funds as well as tens of thousands of individual investors.

About Elliott Wave Analyst Program

The Certified Elliott Wave Analyst program validates the highest level of proficiency and practical application of Elliott Wave analysis in the world's investment markets, such as stocks, commodities, energy, interest rates and currencies.

As beautifully mentioned by Christopher Morley in one of his quotes, "Dancing is a wonderful training for girls. It is the first way they learn to guess what a man is going to do before he does it". In the same vein, the Wave principle trains the analyst to discern what the market is likely to do before it does it.

For more information on the program, follow the link here.