24 Aug 2020
CLIMATE LAUNCHPAD, NATIONAL FINAL: La Déchéchéque and Nomadic Escapes big winners of this second edition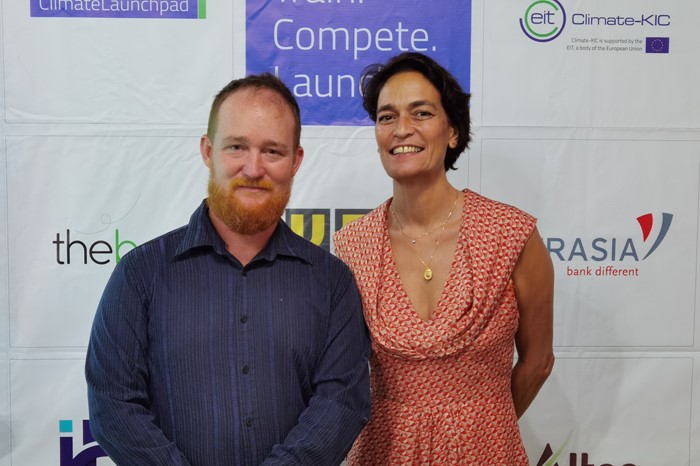 At the initiative of the Climate-KIC (European Institute of Innovation and Technology), the Climate Launchpad is today the most important international competition for innovative climate solutions. But much more than that, it is basically a training and coaching program for project leaders. This program led by Thierry Le Breton, partner of Dynamia, is intended to be a launching pad for any type of innovative project associated with climate issues and not yet benefiting from technical or financial support. The aim of this project is to generate ideas for green businesses capable of fighting climate change.
The national final of this second edition of the Climate Launchpad took place on Saturday 22nd August at the Mauritius Glass Gallery. The particularity this year is that it took place on Zoom, in order to ensure the participation of the Mauritian candidates still stranded abroad, and also so that the national winners are prepared for the international grand final which will also be held on Zoom on September 30th.
On this occasion, the 9 selected teams had to present their innovation for climate to the jury. At the end of the pitching session the jury, made up of 4 professionals recognized in their fields and who can make a relevant judgment on the issues of sustainability, innovation, financing and market, awarded third place to Madvee Muthu for her project Bees with Stories and, as equal winners, Stéphanie Bouloc for her project La déchétèque and Louis Thompson and Antony Paton for their project Nomadic Escapes.
Thierry Le Breton added: "The Climate Launchpad competition creates a platform for a diversity of people who not only recognize the crisis we are in, but also actively invest their time and resources in climate action. The selected projects are the very proof that there is an emerging new generation of entrepreneurs who are committed to innovative and sustainable business models, such as circular or inclusive economy models. The pitches presented during the final were of a certain quality that made it difficult to choose just one big winner. Thus, the jury decided on two projects; La déchétèque and Nomadic Escapes."
These 3 projects will participate in the regional final, in order to compete for a place in the world final of the Climate Launchpad scheduled for September 30th. They will compete against other climate innovators, winners of the finals from the other 50 countries participating in this program. The ultimate winner will receive 10,000 Euros, the second and third place winners will receive 5,000 Euros and 2,500 Euros respectively.
All finalists who make it to the top 16 will automatically access the acceleration program offered by Climate KIC to help them realize their business plans.
Dynamia has been asked by these European institutions to relay this initiative in Mauritius, and its mission was to seek and help environmentally conscious entrepreneurs to refine their business plan and pitch their project.
The adventure began with a public call to participants in the middle of a period of isolation. At the beginning, nothing could have predicted its success, yet 48 applications were received at the closing of the registration process. 9 teams were selected to follow the training and coaching program to successfully launch an ecological start-up.
It emerged that the ambitions of these young entrepreneurs were motivated by the health of their children, the desire to reduce the costs and waste of everyday consumer products and the need to restore our environment.
Each candidate had 5 minutes to present his or her project to the jury composed by :
Christine Marot, (Group Head Technology and Sustainability at IBL)
Mohamed Mouratsing, (Director Analysis Group)
Natasha Emilien (Co-founder and Managing Director at Red Dot)
Michael Apaya (Head of Sustainability & Inclusive Growth at Business Mauritius)
To date, the Climate Launchpad has enabled the development of more than 2,500 new ideas around the world which, in addition to coaching in project presentation, have benefited from exceptional visibility as well as national and international networking opportunities. This is how this initiative fulfills its ambition to be a launching pad for budding innovators.
The winners


The big winners:
La déchétèque: A recycling and environmental clean-up project, through an application that links buyers and sellers of construction waste.
Nomadic Escapes: An eco-resort pop-up service that succeeds in demonstrating sustainability, well-being and adventure at the same time.
Third place:
Bees with stories : An agricultural project that commercializes honey products while preserving biodiversity.
Other finalists:
UP- rooted: An aquaculture project to promote food production in urban areas.
Plastic Recycling Hub: A recycling and environmental cleanliness remediation project.
Green Space: A virtual project that stimulates the exchange of services and local products in an alternative way.
Negative: A renewable energy project - a product that captures all the energy available in the environment (solar, water, wind, electromagnetic) and converts it into electricity.
Solar Combined Heat and Power: A renewable energy project that optimizes and converts solar thermal energy to produce electricity for domestic and business use.
Magiland: A project that promotes the consumption of vegetable rather than animal products, in a fast-food type economic model.