09 Nov 2020
AfrAsia Private Banking takes the top honours at PWM/The Banker Global Private Banking Awards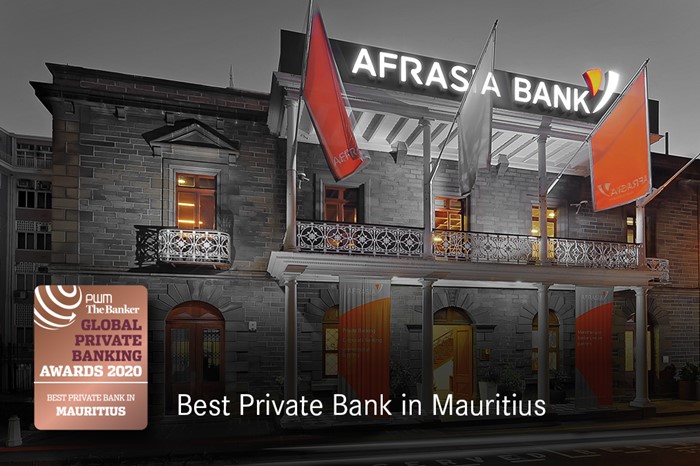 PWM, the renowned Financial Times Group publication specialising in private banking and asset management, has acknowledged AfrAsia Bank as the Best Private Bank of Mauritius at the PWM/The Banker Global Private Banking Awards 2020.
This prestigious accolade is an important international achievement which recognises our leadership in the private banking space while affirming the customer-centricity of our business model, designed to better meet the needs of the High Net Worth Clients, both local and international, who require more personal advisory and innovation.


Speaking about this success, Thierry Vallet, General Manager of AfrAsia Bank, said, "Amidst all, the pandemic has also brought client relationships into sharper focus and private bankers cannot overlook the importance of effective customer engagement and proximity during this time. This recognition not only marks the culmination of the Bank's continuous efforts in scaling our wealth management services and investment product offerings but is also a true vindication of the strength and quality of our bespoke client approach and the hard work and dedication of our entire team in serving our clients across key segments and geographies despite the challenges on the horizon."


The PWM Global Private Banking Awards provide continuity to a year of recognitions for AfrAsia. Earlier in September, AfrAsia Bank was crowned in the Financial Institutions category at the PwC Corporate Reporting Awards; and last month, the Africa Global Funds Service Providers Awards conferred the Bank with the Best Banking & custody provider: Global Custodian accolade. 


The PWM/The Banker Global Private Banking Awards recognise and reward excellence in wealth management among banks from across the world, based on rigorous qualitative and quantitative criteria. Private banks are judged on the progress they have made in their business/growth strategy and how they were able to boost inflows and profits. They are also evaluated on their client relationship management blueprints and their adaptation of portfolio management, asset allocation and product strategy to meet investors' changing needs and attitude to risk.