14 Sep 2019
Road to the Pro-Am ticket for the AfrAsia Bank Mauritius Open 2019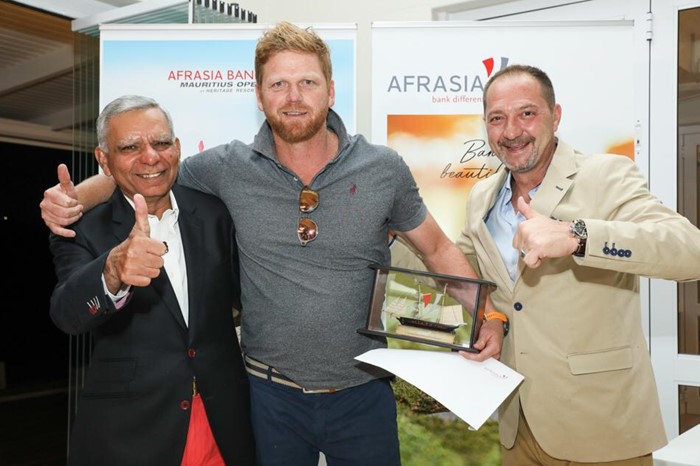 In the lead up to the AfrAsia Bank Mauritius Open, the only worldwide tri-sanctioned tournament endorsed by the Sunshine, the European and the Asian Tours, AfrAsia Bank hosted an exclusive golf event for its South-African clients on Friday 13 September 2019 at the River Club Golf Course in Johannesburg.
This action-packed competition welcomed 60 golf enthusiasts, who competed in a four-ball alliance, which the team Andrew Baranyay, Doug Payne, Marc Tayler and Greg Bedser finally took the first spot on the day with a score of 92 points.


Driven by its "Bank Different" philosophy, AfrAsia Bank left no stone unturned to create memorable moments for its golf amateurs. In a draw contest, the Bank gave a place to Tyler Manson to play at the Pro-AM of the AfrAsia Bank Mauritius Open 2019 as well as air ticket and accommodation. The tournament will be held from 05-08 December 2019 at the Heritage Golf Club, Bel Ombre, Mauritius.


"Being the lead sponsor of the AfrAsia Bank Mauritius Open for the fifth consecutive year underpins our vision for the tournament to remain a premier event in Africa. This year again, we will ensure that the Mauritius Brand reaches higher level of recognition in the sport of golf as well as a world-class golfing destination. With a record level of high-ranked international golfers heading to the island each year, we seem to be enhancing the positioning of this event in the world golfing calendar. ", stated Sanjiv Bhasin, CEO of AfrAsia Bank.


No less than 156 international golfer will be competing to win the EUR 1million prize in the Open. The tournament will be broadcasted worldwide to reach more than 400 million viewers. This year's tournament will consist of 48 professionals from each of the three tours and 12 invitations participating in a 72-hole race championship, which will count for the Individual Order of Merits of the Tours, including the Dubai Race and the Official World Golf Ranking.