03 Aug 2018
Kids at Work: AfrAsia Bank focuses on saving our oceans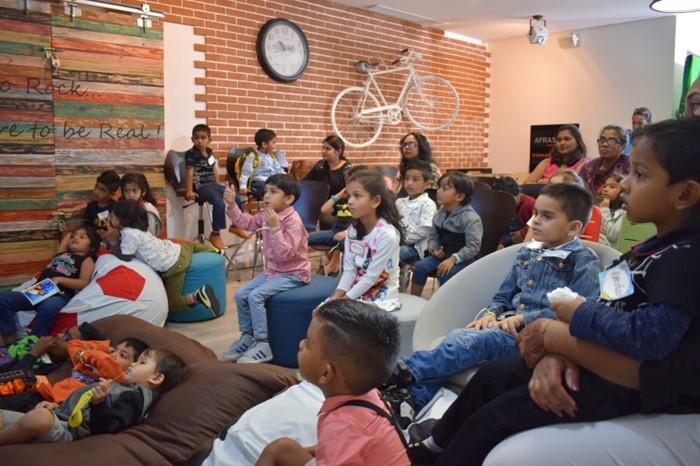 AfrAsia Bank hosted its second "Bring your Kids to Work" at its Ebene branch today.
The initiative, launched in 2017, provides a unique opportunity for employees to bring their children to work, so that they get a chance to better understand their parents' jobs and responsibilities within the institution, while engaging in workshops and sessions that provide them with a hands-on learning experience on topics such as sustainability and conservation. Keeping in line with AfrAsia's commitments to the Sustainable Development Goals – SDGs set by the United Nations, this year's theme is "Life below Water".
According to Luvna Arnassalon-Seerungen, Head of Corporate Sustainability and CSR of AfrAsia Bank, "Our work culture has always strived to push the boundaries of accepted norms and we take great pride in creating a work environment that fosters a deep symbiotic relationship with our employees. This year we decided to combine our commitments to our employees with our commitments to the environment and the SDGs and create a unique space for children to acquire knowledge and skills that will enable them to contribute in a holistic manner to the future of our planet."
Over 50 children participated this year's edition and were split in the age groups of 3-7 years and 8-13 years respectively. Both groups got a workplace tour and engaged closely with the staff to learn about the everyday happenings of the bank and the roles their parents play within it. The younger group also got a chance to participate in a presentation by the AfrAsia School teachers. The presentation focused on saving our oceans and through multiple DIY workshops, the kids were taught about good practices to adopt for preserving the ocean and the environment. The older group of children had the chance to interact with Reef Conservation and their Marine Mobile Education Unit, Bis La Mer. The children were excited to learn about the marine ecosystem and the environmental issues that threaten it today. They also learned about human impact on this ecosystem and how to reduce it.
Valerie Lincoln, staff and mother says that, "my daughter Victoria was thrilled to come with me to work today. Being a working parent you miss out a lot and it has been a great experience to share what I do with her and show her how I spend my time when I am away from my family. Living in Mauritius, an island nation, it is impossible for us to ignore the problems climate change is posing to our waters. It is absolutely imperative to educate our children about these issues now so that they are able to mitigate some of our footprint on our planet before matters get worse."