15 May 2018
AfrAsia bags the Best Corporate Bank 2018 award for the second year in a row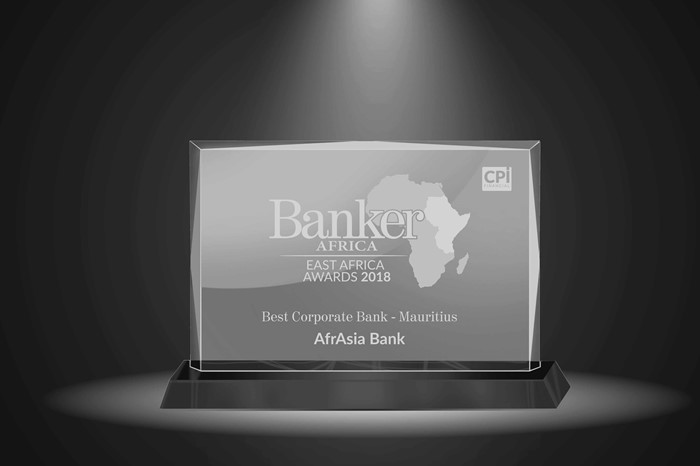 AfrAsia has bagged the "Best Corporate Bank 2018, Mauritius" at the fifth Banker Africa East Africa Banking Awards 2018.
We are delighted to win this award for two consecutive years. The award is a testimonial to our operational and technical expertise in the corporate business. It reflects our ability to consistently deliver superior value across markets and enable our customers navigate the challenging economic landscape.
Each year The Banker, a publication on the banking sector, acknowledges banks for the best overall performance by country and region. The winners are selected based on financial results, strategic developments and overall achievements during the year. The aim of the Award, which is split in four individual regions (North Africa, East Africa, West Africa and Southern Africa), is to recognise outstanding performance and excellence in the financial services industry.
"This award recognises the success of our strategy in the Corporate Banking. This business has demonstrated encouraging growth over the years and has improved its wallet share both among the top 100 companies in Mauritius and among the top corporates in different industries across sub-Saharan Africa. With our clients present in about 135 countries, we need to ensure that we are able to meet varying customer expectations all the time and consistently" said Sanjiv Bhasin, the CEO of AfrAsia Bank.
The annual Banker Africa Awards are continent-wide programmes open to all banks and financial institutions in Africa. Besides AfrAsia Bank, some of the other renowned banking institutions that were rewarded include Barclays, Citibank and Standard Chartered.