04 Aug 2017
Bank Different - AfrAsia Bank initiates 'Bring Your Kids To Work' Day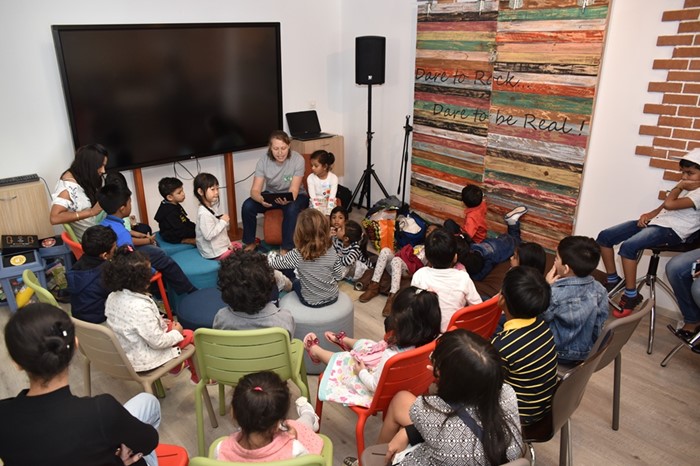 AfrAsia Bank hosted its first "Bring your kids to work" day at its Ebene Branch. This extracurricular program is part of the Bank's sustainability plan, providing an engaging platform for staff and children to come together and enjoy a fun day.
The children not only get an introduction to their parent's roles but also engage in hands-on learning via interactive sessions on topics such as recycling and coding through its partners Mission Verte and Oracle. The first workshop driven by Mission Verte has for objective to raise children's awareness about the 3 R's, the 'reduce, reuse and recycle' waste hierarchy and encourage them to adopt good behaviours toward protecting the environment through playful activities. The second workshop is led by Oracle, through Alice program, an education programming language, which aims to teach children between the ages of 7 to 12, to create 3D animations and videos as they learn fundamental programming concepts.

Sanjiv Bhasin, CEO of AfrAsia Bank said, "Our work place is definitely outside of the traditional. We want to instil a family-like feel where employees are able to find a sense of belonging and identification with the bank. There is nothing better than working at an organization with a great culture. Today we want our kids to make contact with this culture whilst they acquire future-proof skills that can help them make an impact on the workplace of tomorrow and that in a fun style".

Over 50 children have participated in the 'Bring your Kids to work' program. The kids got real-life glimpse of their parents' job and responsibilities, but also gain critical skills that will help them succeed in the future. The children were excited to learn about how to create animated movies, simple video games works and immerse into innovative 3D programming environment.
Parik Tulsidas, staff and father, says that, "my daughter Raina was very enthusiastic to accompany me for this day. I am very proud of the idea that my daughter is interested in what I do, it brings us closer. She very much liked the workshop with Oracle, since early age she is passionate about technology. I think that teaching children how to code is a great initiative in a society where technology is becoming more and more important," he added.