09 Nov 2017
AfrAsia Bank launches Instant Account Opening - a first of its kind Digital Customer Onboarding Application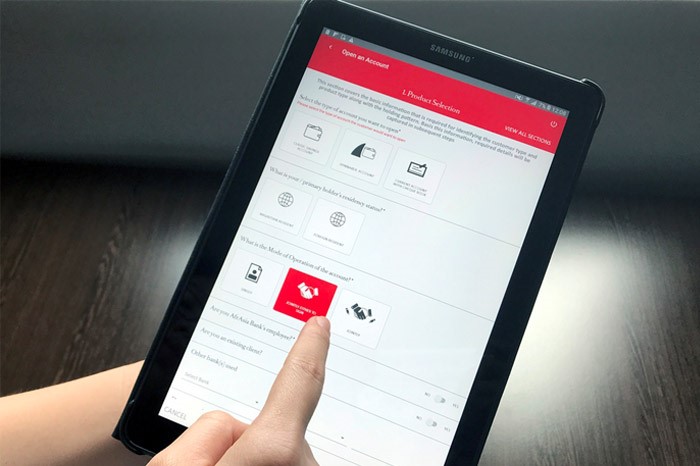 AfrAsia has launched another "first of its kind" application that allows its Private and Personal Banking customers to have their account opened from the comfort of their office / home while receiving instant acknowledgement of their application.
Through this application, the Bank has focused on three overarching objectives to get its customer onboarding right: i) improving client convenience with e-signing, ii) curbing paper  and iii) reducing processing time for account opening.
With the new application, the Relationship Managers of the Bank will complete the entire onboarding process at the customer's convenience, on a tablet and open the account for the customer through the use of technology that integrates online with the Bank while allowing for digital capturing of the customer's documents and signatures.  
 "If our customers need something done, we will develop solutions to get it done for them. With the launch of the digital account opening application, our Relationship Managers will no longer trouble customers with lengthy paper work. There is no need to make photocopies of a pile of documents any more … our app will take care of this and we will make life easy for our customers. Our digital onboarding application is not only client centric, it is also employee centric – it is a simple solution that provides for instant gratification and unlocks efficiencies for account opening processes. I am happy to say that the deployment of the application is also aligned with our desire to "go green" while supporting the Global Sustainability efforts in preserving the environment by eliminating paper consumption significantly," said Vijit Yadav, COO of AfrAsia Bank.
Through the use of a tablet, the Bank will capture all details of the customer, including Know Your Customer (KYC) details and other legal and regulatory requirements. AfrAsia Bank says the application will provide a reference number instantly and an operating account within 4 hours of completing the account onboarding process.
The digital era is fundamentally shifting customer behaviour and preferences and financial institutions are increasingly adopting a customer-centric point of view rather than being product-centric. Sanjiv Bhasin, CEO of AfrAsia Bank added that, "Improving both the employee and customer experience has become a big component of our corporate strategy. We will continue to innovate in this space and increase digital capabilities to provide our customers and staff alike, with tools to get the job done. There is a clear accelerated adoption of digital lifestyle by consumers, and we have to prepare for that shift. Our challenge is to anticipate potential and existing customer needs and to provide value which is not only more efficient but which could direct customer behaviour and setting new trends."
This new application is a key element of AfrAsia Bank's digitalization strategy to redefine their onshore private and corporate customers' experiences. The Bank is focused on making banking even more simple and delightful for its clients, while also ensuring that the onboarding process gathers ample and relevant information to allow effective ongoing monitoring.