24 Oct 2018
'All economic activities have a significant impact on population', says Sanjiv Bhasin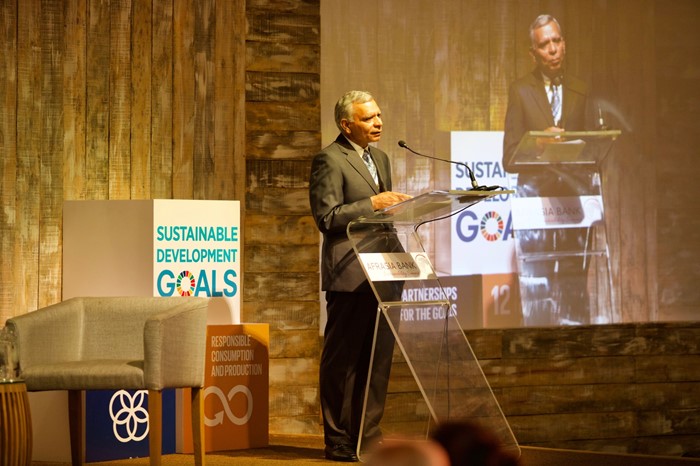 'All economic activities have a significant impact on population', says Sanjiv Bhasin
Sustainability is a real challenge for Mauritius, believes Sanjiv Bhasin, Chief Executive Officer of AfrAsia Bank. Recently, AfrAsia organized the first Bank Sustainability Summit gathering various stakeholders. In this interview, the CEO elaborates on what the Summit targeted and at the same time shed light on the concept of sustainability in Mauritius.

A Bank Sustainable Summit, it's a first for both AfrAsia and Mauritius. So, what was the target for this summit?

A key objective of this Summit was to focus on the joint efforts of local businesses, Government and international professionals to drive the impact in the field of sustainable development. At AfrAsia Bank, we believe that businesses, as much as the Government and civil society, have the responsibility to commit to sustainable development, especially since all economic activities have a significant impact on the population.

The goal of the AfrAsia Bank Sustainability Summit was to bring together relevant stakeholders to define a realistic and achievable roadmap to aspire towards the 17 Sustainable Development Goals (SDGs). For this, we assembled several sustainable development experts to define what a sustainable business is, along with entrepreneurs and businessmen to share their experience and know-how. This summit, the first of its kind organised in Mauritius, will help to adopt initiatives to ensure that SDGs are introduced and developed.

Why has the Summit put much emphasis on the nine themes of the 17 SDGs?

The AfrAsia Bank Sustainability Summit should culminate in the elaboration of a roadmap for the implementation of measures that will enable businesses to fully integrate the 17 SDGs in their operations. This roadmap aims to set the standards and the methodology, which businesses should be adopting to ensure that implementing measures favouring the realisation of the 17 SDGs is feasible and non-disruptive.

The 17 SDGs have been designed to beneficially gather a joint effort towards sustainable development in every walk of life. It is essential that there is a complete understanding of this subject. This will generate a belief in the concept and possibly ensure that efforts in that direction start and pick up pace in an impactful manner.

As you see it, what are the key sustainability issues in Mauritius?

Firstly, at this summit, participants addressed one key element of the 17 SGD's, which is to strengthen the means of implementation and revitalise the global partnership for sustainable development. Through this, we can build our roadmap, which will facilitate the implementation of future projects and campaigns aimed at executing and acting on other SDG's. Touching major key points, namely eradicating poverty, improving quality education, industry, innovation and infrastructure, we truly believe that gaps will be filled and new ideas will be added to this road map to build a more sustainable home for our future generations.

Do you think sustainable development is a real challenge for our generation?

Yes. It is a challenge but through proper coordination and synergy, we are convinced that a lot can be done to push existing efforts, and of course new innovative ones, especially where Small Developing Island States are concerned. We must keep the objectives in focus always.

Many businesses believe that sustainability carries a risk. Do you share the same opinion?

The risk is associated with the lack of action. It is high time that we translate our words into action and we all must work together to see a return on our investment. By finding more sustainable ways to build, expand and move forward, we will come up with new models of implementation for our operations. Sustainable development has been identified as a key developing area of expertise and several corporates are building up on human resources, especially internally to integrate the goals in their strategy. Through such efforts, we are directly and indirectly contributing to adopting many of the SDGs.

What steps should businesses take to ensure that sustainability concerns, such as efficiency and environmental impact, are considered at an early stage in any project rather than waiting to be tackled at the end?

It is essential that all aspects of development are assessed prior to the execution of any project. Business strategies for sustainable development have become a key element when developing any business proposal and simultaneously a business model. Taking into consideration the elements of social, economic and environmental impacts, all regulatory bodies, with micro, macro and even global influence, have set guidelines to ensure that all impacts are assessed before the roll-out of projects

Looking at the pace that Mauritius is moving, are you optimistic about sustainability in years to come?

AfrAsia Bank is seeking to bring together relevant stakeholders to define a realistic and realisable roadmap for achieving the 17 UN Sustainable Development Goals. By mobilizing companies and stakeholders, we have identified key partners and are still welcoming new active participants in the field of sustainable development to assist us towards creating an equitable and prosperous Mauritius. With the first ever and of its kind in Mauritius, the AfrAsia Bank Sustainability Summit, we are confident that this will pave the way towards more innovative ideas and participation of key partners on the local, regional and global platform.

Do new technology, such as blockchain, form part of the sustainability concept?

Blockchain based applications provide many opportunities to help us create a more sustainable world or shall we say, program a more sustainable world. While the blockchain technology remains quite energy intense, it is indeed showing positive signs which are scheduled to contribute to our journey towards a sustainable future. Simultaneously there has been increased emphasis placed on the contribution of other tech trends, namely, the need for real time data, virtual realities and thus more coherent and integrated reporting framework. We see and welcome the transition towards more tech-friendly means of operating and executing sustainable development according to proper ethical guidelines. As the banking sector sets the pace for the adoption of faster methods of operation and service delivery, we believe that the contribution of new technologies will further allow for more efficient methods of operation.