19 Feb 2016
Funds hearten communities in Cape Winelands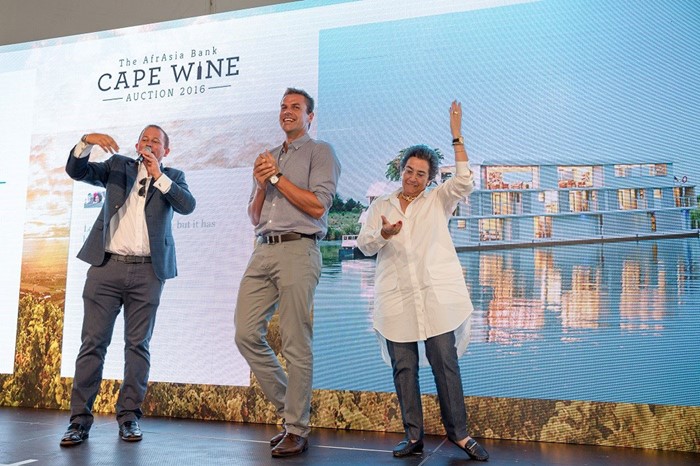 The 2016 AfrAsia Bank Cape Wine Auction raised an impressive R15 000 000 to further life skills, education and training in the Cape Winelands. A record was broken when the first ever bottle of Touch Warwick Cabernet Sauvignon 2014 was sold for an incredible R1.3 million and then Port 2 Fino Lot, sponsored by Port2Port, was auctioned off for the amount of R1 250 000. Every cent raised, without offset or deductions, is added to the Cape Wine Auction Trust and given directly to charity.
Hosted at Klein Constantia Wine Estate, the auction ensured guests were treated to scenic views, a wide range of wine from neighbouring Constantia farms, craft beer and market style food from award winning chefs Peter Tempelhoff and PJ Vadas.
Each guest was confident in their bidding and competed for the 40 once-in-a-lifetime lots on offer, with packages featuring rare wines, exceptional private homes, supremely talented chefs and winemakers, and access to the inner sanctum of the South African wine industry. These extraordinary opportunities come along once a year and are not repeated.
Thierry Vallet, General Manager of AfrAsia Bank who also attended the event comments, "This year's AfrAsia Bank Cape Wine Auction raised an impressive R15 million to help those in the Cape wine lands in need of education and training. Not only was this the highest amount ever raised at the Auction; each cent will be directly given to charity and a record number of firsts were also achieved. As the headline sponsor, we are incredibly humbled and proud to be part of such a fantastic initiative. And seeing the Auction grow from strength to strength each year reinforces why as a leading international private bank, not only does The AfrAsia Bank Cape Wine Auction marry with the lifestyle of our clients, providing a channel of engagement, but corporate social responsibility is a key pillar to us and we understand the importance of making a sustainable contribution to the development and economic growth of South Africa."
In attendance were well-known personalities such as Ryk Neethling, David Tlale, TBO Touch and through their awareness and deep pockets, they have assisted in supporting the Cape communities in making education an essential need to those less fortunate to afford guided schooling and training in their homesteads or daycare.
"The 2016 AfrAsia Bank Cape Wine Auction once again proved why it is a globally identified auction event. We are so fortunate to have a supportive presence from international audiences and media who are willing to be part of a great cause- which allows us to hearten and promote the education of underprivileged youth in the Cape Winelands," says Mike Ratcliffe, Trustee of The AfrAsia Bank Cape Wine Auction Trust and MD of Warwick Wine Estate & Vilafonté.
This is the third AfrAsia Bank Cape Wine Auction event and the trustees have proved there is no limit to their success. They have managed to supersede their funds annually, creating a dependent support system to the Cape Winelands community, giving their 19 beneficiaries a chance at enabling the youth with workshops, leadership skills and motivation to find independence and confidence in the learning available to them. Trustees Wendy Appelbaum, Ken Kinsey-Quick, Siobhan Thompson, Michael Jordaan and Mike Ratcliffe were all in attendance throughout the weekend and were overwhelmingly pleased with the response and engagement the guests put forward at the event.
After investing all their energy into another victorious AfrAsia Bank Cape Wine Auction, the trustees are excited to share the funds with their beneficiaries for another year and look forward to how they can expand the event alongside the cause in the future.