"All through time, people have basically acted and reacted the same way in the market as a result of: greed, fear, ignorance, and hope. That is why the numerical formations and patterns recur on a constant basis."- Jesse Livermore.
Fundamental review.

The South African Rand has been smashed early last week to as low as 13.92 against the U.S dollar after the respected Pravin Gordhan was replaced by new Finance Minister Malusi Gigaba that triggered credit downgrades to junk status by S&P Global Ratings and Fitch. In the meantime, Moody's have placed South Africa's sovereign credit ratings on review, citing President Jacob Zuma's decision to fire finance Minister Pravin Gordhan as one reason.

However, the Rand bounced back sharply to 13.45 against the U.S dollar on Wednesday, having been thrown a lifeline by new Finance Minister Gigaba who said that South Africa is committed to fiscal consolidation plans outlined in the 2017 budget by his predecessor Gordhan and vowed to keep the country from a third credit downgrade to junk status from Moody's.

The Rand got an added boost from U.S President Donald Trump this week who undermined his own currency by saying it was too strong.

Technical analysis

Short term outlook- corrective setback on the USD/ZAR around 13.15/12.95

On an Elliott Wave perspective, the rally on the USD/ZAR from 12.30 low on 27th March to a high of 13.95 on 10th of April looked impulsive. We believe that the recent drop on the USD/ZAR is part of a corrective setback. On the hourly chart, we see potential for more weakness in the short term possibly in the range of 13.1255/ 12.95(50% and 61.8% fibo of last spike).

Long-term outlook- Potential for more weakness on the USD/ZAR above 14.50/15.60

However, the long-term outlook seems much gloomier for the South African Rand on the back of lingering political uncertainty and a possible downgrade from Moody's ratings agency knocking at the door. We foresee the current strength of the Rand more like the calm before the storm and a move above 14.50 could be on the cards in the coming months.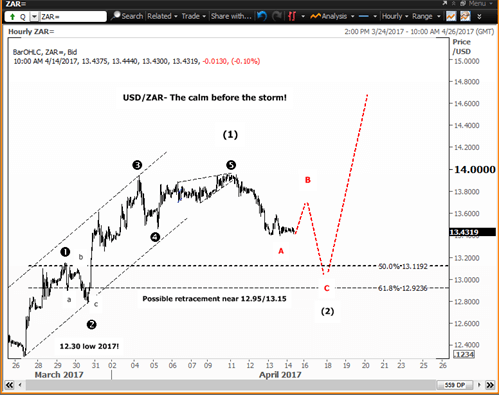 CONTACT US

Interested in Forex ,Bonds ,and structured products?

Please feel free to email us or give us a call. Our dedicated team looks forward to advising you on our suitable customized and structured solutions to meet your specific hedging and investment requirements on different asset classes. 

FX-Treasury@afrasiabank.com