"A man can fail many times, he is not a failure until he begins to blame somebody else"-John Burroughs.
The News...

Sterling soared to a six-month peak of $1.2963 on last Friday, after Prime Minister Theresa May called for a national election on 8th of June. Just hours after the announcement on 18th of April, the pound shot up more than 2.7 percent from $1.2513 on Investors' assumption that a bigger parliament majority for the Conservative Party in the British's government would strengthen Theresa May's hands in negotiations to ensure the best possible deal with the European Union, ahead of Britain's withdrawal from the European Union on 29th of March 2019.

It is reported that the formal negotiation will start after election in UK. Meanwhile, the latest polls suggest that May's Conservative Party would defeat the Labour Party in the upcoming election in June, adding fuel to the fire.

Technical analysis

Short term outlook- The recent rally might temporarily halt near $1.3006 before a corrective decline near $1.2750.

Cable has kept the bullish momentum, following Theresa May's call for a snap election on June 8. On the hourly chart, the pound has still room for a possible test higher in wave (3) near the psychological $1.300 barrier, before a strong corrective decline near $1.2750 in wave (4), previous wave iv retracement level of a lower degree.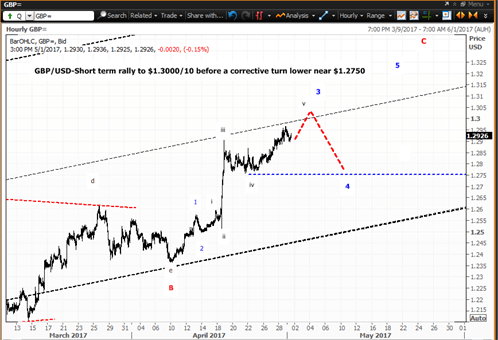 Long-term outlook- Bulls eyed for more gains near 1.3100/1.3900 in the coming months.

Since mid-January 2017, the pound was meandering within a low of $1.19 and a high of $1.2700. In Elliott wave perspective, the Pound appeared to be trapped into a triangle formation pattern in Wave B over the last few months. However, the break out from $1.2513 last week suggested that a thrust higher from the triangle is currently underway in Wave C. Despite our short term bias for turn lower near $ 1.2750/1.2800 zone, We suspect the pound to keep the bullish momentum in the range of $1.3100/1.3200 in the coming months which should represent the final leg higher of a larger Zig-Zag correction in wave A-B-C which started early in October 2016.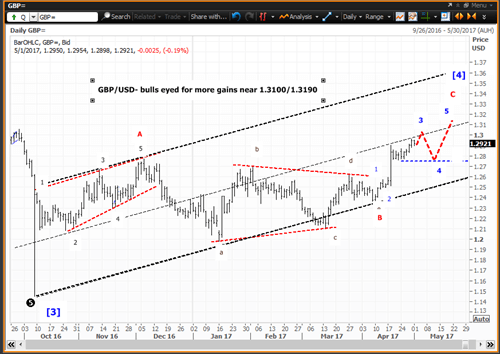 CONTACT US

Interested in Forex ,Bonds ,and structured products?

Please feel free to email us or give us a call. Our dedicated team looks forward to advising you on our suitable customized and structured solutions to meet your specific hedging and investment requirements on different asset classes. 

FX-Treasury@afrasiabank.com