"If someone offers you an amazing opportunity and you're not sure you can do it, say yes, then learn it later."- Richard Branson.
The News..

The Single currency has maintained the bid tone across the board after French election result of the first round on 23rd of April came in largely as projected in opinion polls. Centrist Emanuel Macron topped in with 23.75% vote, while Far-right Marine Le Pen ended with 21.53%. As France prepares for its second round of presidential voting, both are through to the head-to-head run-off election next Sunday on 7th of May. It now looks like as a done deal for pro-euro, Emmanuel Macron to win and become the next French President, and thus relieving markets from a Frexit referendum. According to recent polls, Macron would easily beat Le Pen by 61% to 39%.

Meanwhile, the euro got an additional boost on last Friday following upbeat Euro-zone CPI print, which eased concerns raised by the European Central Bank President Mario Draghi during the post meeting press conference on Thursday. Overall, Draghi was generally more optimistic surrounding a range of growth indicators in the Eurozone, whilst remaining cautious in some areas of weakness within the Eurozone economy, given risks remain in countries such as Italy and Greece, whereas Germany will hold elections in September.

On the other hand, the U.S dollar was pressured against its peers as U.S data has been soft of late, which included recent miss in Growth data(GDP) and Fed's favourite inflation gauge, Personal Consumption Expenditures(PCE) price index that remained weak. Markets would look into a string of key events this week for further guidance on a June rate hike. Starting with the FOMC meeting on Wednesday where the Fed is widely expected to keep policies unchanged, and closing with U.S non-farm payrolls on Friday for some lights on the U.S economy outlook.

Technical side: EUR/USD- One last leg higher near 1.1050/1.1076 before turning south!

Early in February, the price action in EUR/USD was calling for a possible bullish structure on the currency pair which indeed happened. The common currency has kept on rising to as high as $1.0945 post Emanuel Macron's victory in the first round of French election before holding near the higher end of the last week's range of $1.0820/1.0950.

Technically speaking, the price pattern over the last few days is suggesting for one more leg higher on a break of $1.0950, with targeted price in the range of $1.1050( Wave Y= Wave W) followed by $1.1076( 78.6% fibo retracement of last November's drop from $1.1299).

On the flip side, the initial support aligns at 1.0820 (low Apr.24) with a break of below $1.077(high Apr.20) would confirm a bearish turn on the EUR/USD!!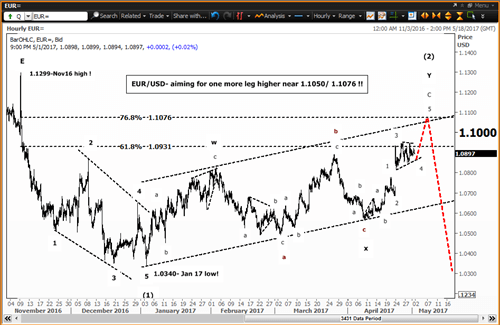 CONTACT US

Interested in Forex ,Bonds ,and structured products?

Please feel free to email us or give us a call. Our dedicated team looks forward to advising you on our suitable customized and structured solutions to meet your specific hedging and investment requirements on different asset classes. 

FX-Treasury@afrasiabank.com