13 sept. 2017
The most oversubscribed Corporate Bond issuance in Mauritius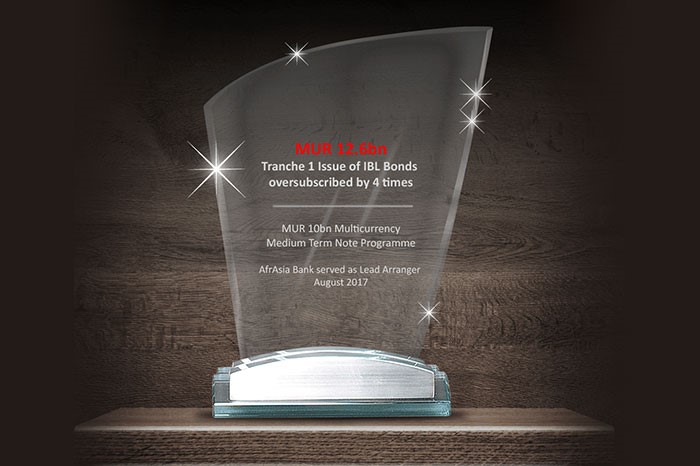 AfrAsia Bank, as arranger, raised MUR 12.6bn for IBL Ltd Bonds, with an oversubscription of 405%
AfrAsia Bank championed the highest ever bond issuance in Mauritius with a massive MUR 12.63 bn raised for the first tranche of IBL Bonds. Initially issued at MUR 2.5bn, the IBL bonds were oversubscribed by 405%, an unprecedented success for the Island. Launched in August 2017, the IBL 'Multicurrency medium term secured and unsecured note programme' – the 'Note Programme' – was implemented with an aggregate nominal amount of MUR 10bn, to be issued through 5 Series of Notes.

Arnaud Lagesse, Group CEO of IBL Ltd, commented: "This strong interest in the IBL Bond Programme demonstrates the solidity of IBL Group as well as the development of the local capital markets where investors are looking for alternative investment solutions. This is the largest single subscription to a corporate bond in Mauritius and the fact that the first tranche was oversubscribed by over four times is a testimony to the confidence that the market has in our Group."

As arranger, AfrAsia Bank targeted sophisticated investors including banks, pension funds, asset managers, insurance companies and investment companies, from whom more than 100 bids were received. Sanjiv Bhasin, CEO of AfrAsia Bank, highlighted: "We wish to establish our credentials in the Debt Capital Markets space and IBL afforded us the opportunity for this association. The offering has been a grand success, establishing an investor response never witnessed before. We thank IBL Ltd for this opportunity and I am certain that this will not only establish us in this business but will help in developing Mauritius as a Debt Raising jurisdiction in due course".

Parik Tulsidas, Senior Executive – Head Treasury and Markets at AfrAsia Bank highlighted the opportunity for Mauritius to be a funding center: "This bond demonstrates appetite for quality investment opportunities in the low interest rate environment prevailing in Mauritius. Institutional as well as individual investors are looking for alternative avenues to invest their liquidity and therefore, it's probably the right time for Mauritian and foreign Corporates to tap into both short-term and long-term debt-raising programs. AfrAsia Bank is extremely proud to be associated with this landmark corporate bond issuance and we now look forward to establishing Mauritius as a regional funding centre for International Corporates and Financial Institutions given that the excess liquidity also extends to Foreign Currencies".

The Bank now aspires to make these debt instruments available to the investor public by showing bid and offer prices at all times to create the liquidity in these instruments and, thereby, further developing the local capital market. "With more than MUR 12.6bn subscribed (more than USD 377m equivalent), the excess MUR liquidity prevailing in the local market in addition to the appetite that investors have for debt instruments issued by large corporates has been made obvious. This demonstrates the high demand of such instruments in Mauritius which shall encourage foreign companies to use the Island to raise debt in the future", highlighted Krishna Sithanen, Transaction Manager for Debt Capital Markets at AfrAsia Bank.

Further to this strong investors' appetite, IBL issued Notes for an aggregate nominal amount of MUR 3bn and the total proceeds are targeted towards the refinancing of existing short-term banking facilities. Moreover, the Stock Exchange of Mauritius (SEM) has approved the listing of Series 2 to 5 of fixed and floating rate Notes over a tenor of 5 and 7 years on the Official Market. The Notes are scheduled to be traded on or before 4th December 2017.