16 août 2017
AfrAsia Bank pursues its digital transformation and customer-focused journey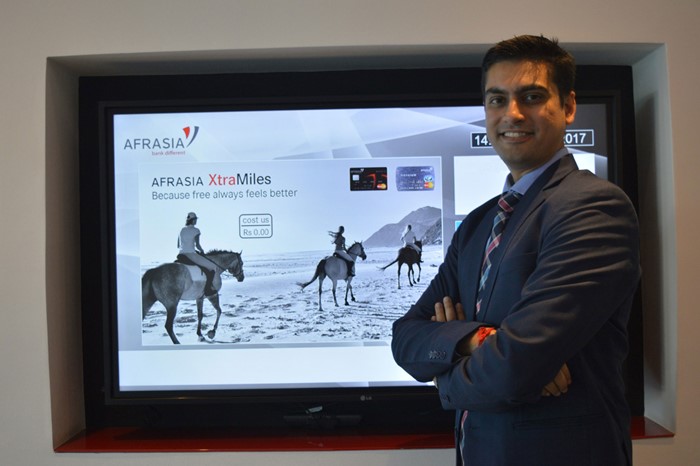 AfrAsia Bank has announced today a new addition to its core team with Sandeep Chagger appointed as Head of Projects and Digital Innovations.
Sandeep is a Chartered Alternative Investment Analyst (CAIA) with a background in electronic engineering and has a track record of high achievement in executing business expansion, capacity building & product innovation strategies in African and Asian financial markets. In his new role, he will lead the Project & Digital Innovation Office at AfrAsia Bank.

Previously working for Bourse Africa, Sandeep has managed diverse jobs that include business growth & development, exchange strategy execution, exchange membership management, communications, trainings and education. Prior to that, Sandeep created and managed the market alliances sub-department for FTIL that managed strategic partnerships with International Investment Promotion Boards, Global and Indian Trade Associations, Financial Market Associations, World's leading educational institutions, Independent Software Vendors & Financial Market participants.

Sandeep will bring his expertise to help accelerate theroad map for AfrAsia Bank's digitisation efforts and customer-focused digital innovations. "We want to develop a culture of innovation at AfrAsia Bank and Sandeep's appointment gives me confidence that we will drive the process of digital transformation at the Bank quicker," says Vijit Yadav, Chief Operating Officer at AfrAsia Bank. "Our aim is always to remain relevant to our clients and provide solutions for "Jobs to be Done."

"The bank of tomorrow will be self-help, with majority of its operations and interfaces being digital. With most of the disruptions happening in the financial technology space, the banking sector is ensuring that it facilitates this innovation by building technology capabilities that talk to these new age innovations or the bank itself is becoming the end-to-end enabler. It is encouraging to see the commitment of AfrAsia Bank towards digital innovation and I look forward to exciting times with the bank," said Sandeep.

Digital transformation is at the forefront of AfrAsia Bank's corporate strategy. The appointment of Sandeep Chagger aligns itself with the bank's strategy to sit tight on its digital business transformation journey. The digital roadmap is focused on driving the customer experience, encouraging clients to learn about their Bank, ranging from products/services, ongoing rewards programmes and the brand purpose.