13 nov. 2015
Best Private Bank in Mauritius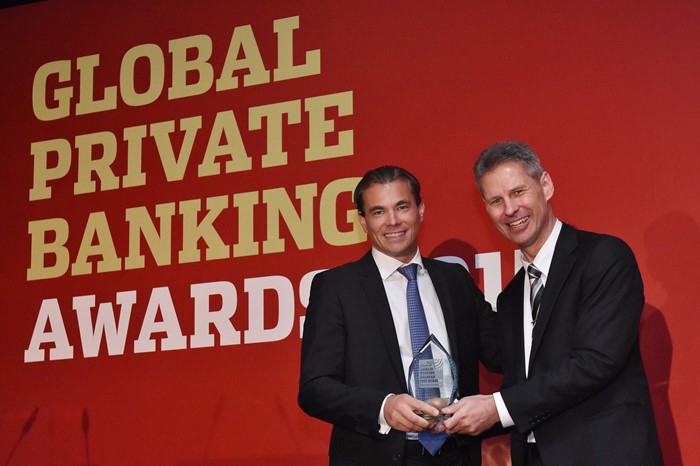 Both magazines, PWM and The Banker are from the Financial Times Group, one of the world's leading business news and information organisation. The ceremony was attended by Guillaume Passebecq, Private Banking Executive at AfrAsia Bank, to whom the award was remitted.

The methodology process of this awards ceremony comprised of qualitative and quantitative information relating to the business model, performance measures, growth strategies, portfolio management, innovation, customer service, technology, digital communication and philanthropy services. The entry was evaluated by a panel of 15 geographically-diverse industry professionals, amongst whom were Yuri Bender (Editor-in-Chief PWM, UK), Faranak Foroughi (Founder and CEO, Tharwa Management Consultancy, UAE), Simon Fowler (CEO Fowler Fox & Co., Hong Kong) and Alois Pirker, Research Director Wealth Management (AITE Group, USA).

"One of our main challenges is to remain a reliable financial partner and solution provider through times of high risks, vulnerability or uncertainty. It is therefore rewarding to be recognised for our excellence in banking, and for our willingness and proactiveness to exceed our clients' expectations. This is our ninth award this year, following recognitions from Euromoney and EMEA Finance magazines, highlighting the Bank's continued excellence in wealth management and global capabilities to provide a unique value proposition to our customers. We wish to thank our clients for their trust and support in our bank as well as our employees for their unremitting commitment," said Thierry Vallet, acting CEO.

Some of the Bank's innovations of the year which have been assessed by the Jury Panel are the flagship Ebene branch, a hub where technology meets human interaction, featuring an 84" multi-touch screen among other interactive displays, a first in Sub-Saharan Africa; the inaugural AfrAsia Bank Mauritius Open, first worldwide tri-sanctioned golf tournament endorsed by the Sunshine, European and Asian Tours; and the launch of the first VISA Platinum prepaid card in Central and Eastern Europe, African and Middle East region.

"This award stands as testament to AfrAsia Bank's commitment to building privileged relationships with its customers and providing sound wealth management solutions tailored to suit their individual, family and wealth legacy aspirations. Moreover, with 163,000 millionaires in Africa, we have plans to continue crafting tailor-made products and services through the Bank's open architecture approach, all adapted to clients' evolving lifestyles," concludes Guillaume Passebecq, present at the awards ceremony.

In line with positioning the Bank as the leading private institution for HNWI and UHNWI locally while expanding its global reach, AfrAsia Bank has always been a first-mover in the market. These initiatives have allowed the Bank to record an expansion in its Private Banking client base by 30%, with deposits increasing by 33% over the past Financial Year ended on 30th June 2015.