09 Mar 2018
AfrAsia & SA Chamber of Commerce host futurist expert, Anton Musgrave for thought-provoking experience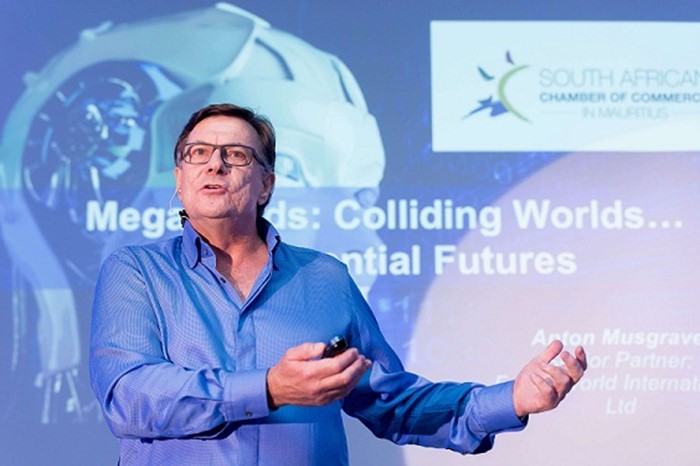 AfrAsia Capital Management and South Africa Chamber of Commerce welcomed around 200 professionals and clients to a conference by futurist and strategist Anton Musgrave on Wednesday 7 March at the Hennessy Park Hotel, Ebene.
With the aim to guide businesses and entrepreneurs on strategic thinking, disruptive innovation and future exponential growth imperatives, the acclaimed speaker provided many insights on the mind-set of the great innovators of our time and how they capitalised on opportunities to drive sustainable growth with much relevance in a rapidly changing world.
Being also a businessman and entrepreneur, Anton is the Senior Partner of Future World International. With his insightful understanding of a wide range of industries, including property, law, financial services, resources, FMCG, logistics and energy, Anton has built an enormous following in many industries and around the world based on his ability to develop accurate visions of the future and describe the opportunities ahead.
Anton believes that businesses need to recalibrate for new key forces including digitization of everything from customer behaviour to new tech tools; changing customer attitudes and expectations; agility and speed; new business models and new talent engagement rules. Commenting on Mauritius as the country is about to celebrate its 50th anniversary of independence, Anton stated "the future is fast and markets are shifting. Mauritius has to be prepared for a rapidly changing, increasingly interconnected and technologically rich world where there will be many new opportunities.  There will also be transformations across many industries, including the financial services sector, which will demand an agile regulatory framework. The country will have to redesign its education system to meet the demands of jobs of the future while also attracting the right skills base to stay ahead and relevant."
Bilal Adam, CEO of AfrAsia Capital Management, stated: "We are already witnessing tremendous technological trends transforming businesses. Partnering with Anton Musgrave is about creating greater awareness within the business community and assisting entrepreneurs explore and find the opportunity in this challenge. New markets and new solutions will open up but many industries will be challenged and very few will be untouched. Our AfrAsia investment research indicates that the next decade will show major growth led by Artificial Intelligence and the Internet of Things."
Richard Robinson, President and Founder Member of the South African Chamber of Commerce believes that today's decisions need to be based on an understanding of what the future might look like. Technological trends transforming business are ubiquitous and accelerating. "Disruption has become an everyday occurrence and is fundamentally challenging the way the world works", he added.